Migrants land on Spanish beach, tourists joke 'they're heading for an all-inclusive' hotel (VIDEO)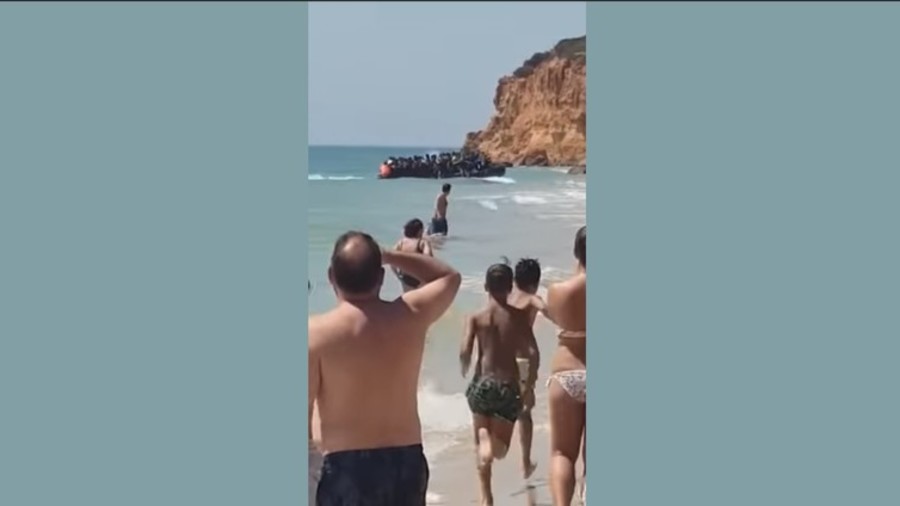 A new video shows dozens of people landing on a Spanish beach in an inflatable boat and rushing towards the cliffs while beachgoers joke that they were eager to get some good service at a local all-inclusive hotel.
With thousands of migrants running to Europe from poverty-stricken and war-ravaged parts of Africa, Spanish beaches are becoming a frequent destination as the continents are separated by the Strait of Gibraltar. The footage of this arrival was taken on Sunday at Spain's Costa de la Luz – a popular holiday spot not far from the strait.
Witnesses watched and cheered as the dingy crew abandoned their vessel and rushed towards the cliff, which separates Barrosa Beach from hotels and tourist shops further inland. "'Look how they're running towards the Sancti Petri Melia Hotel," one is heard commenting in Spanish in the video. "They're heading for the all-inclusive Melia Sancti Petri. Look, look, look."
Local authorities reported detaining 25 of the landing party, 19 of whom were minors. They were sent to migrant holding centers for adults and for youths. A spokesman for the Civil Guard said all the intercepted passengers were from Morocco.
According to El Pais, 17,605 migrants have arrived in Spain illegally by sea since the beginning of the year. The country is surpassing Italy and Greece as the primary destination for people trying to reach Europe across the Mediterranean Sea, the newspaper reported.