'Now, this is fame!': 2 tons of cocaine branded with Russia's ruling party logo seized in Belgium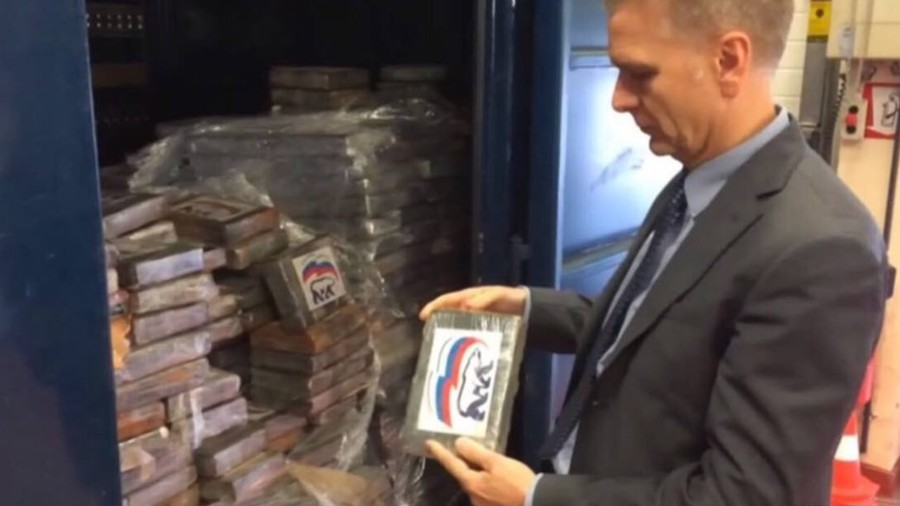 Belgian police have busted a massive cocaine shipment in Ghent, marked with a bear symbol, identical to United Russia Party logo. Party officials took the news lightheartedly.
Nearly two tons of cocaine was uncovered on Tuesday. The drugs were stashed in three containers, arriving at the port city of Ghent from Brazil. Cocaine was packaged into more than 1,900 separate bricks, some of which were branded with a logo depicting a polar bear under the Russian tricolor. The image is practically identical to the official logo of Russia's ruling Party.
The party itself was bewildered by the fact that South American drug lords chose to brand their shipment with its insignia. "Now, this is fame!" high-ranking party official and lawmaker Evgeny Revenko joked on social media. "Or, maybe, they simply liked the flag with our bear. In any case, this made my day, and [I had] a good laugh."
The party's spokesperson later confirmed to RBC TV channel that the officials took a "humorous approach" to the news about the drug cartels using symbols closely resembling their logo.
The bricks of cocaine were "professionally hidden," the police told local media, adding that the cargo's massive size makes it the largest drugs seizure in Ghent's history. All of the shipment, with a value estimated at about 100 million euro, was promptly destroyed by authorities several days later.
Commenting on the 'bear logo,' the police said branding is used by smugglers to distinguish different drug-makers or specific types of drugs they ship overseas. Sometimes they use random symbols to identify themselves.
READ MORE: 400kg of flour: Cocaine smugglers busted in tricky Argentine-Russian anti-drug op
In July, a large cocaine shipment marked with pictures of Brazilian football superstar Neymar was busted in Guatemala, while several months prior the British police arrested a gang smuggling cocaine blocks from Colombia with Superman logos emblazoned on them.
Last week, the Russian envoy to Argentina together with the Argentine security minister had personally participated in incinerating nearly 400 kilograms of cocaine that were captured during a joint police operation. The criminals hid the drugs in the school annex of the Russian embassy, hoping to airlift them later to Moscow, but the daring plot was busted, leading to six arrests.
Think your friends would be interested? Share this story!
You can share this story on social media: