The future is here! Russia successfully tests exosuit enabling wearer to shoot machine gun 1-handed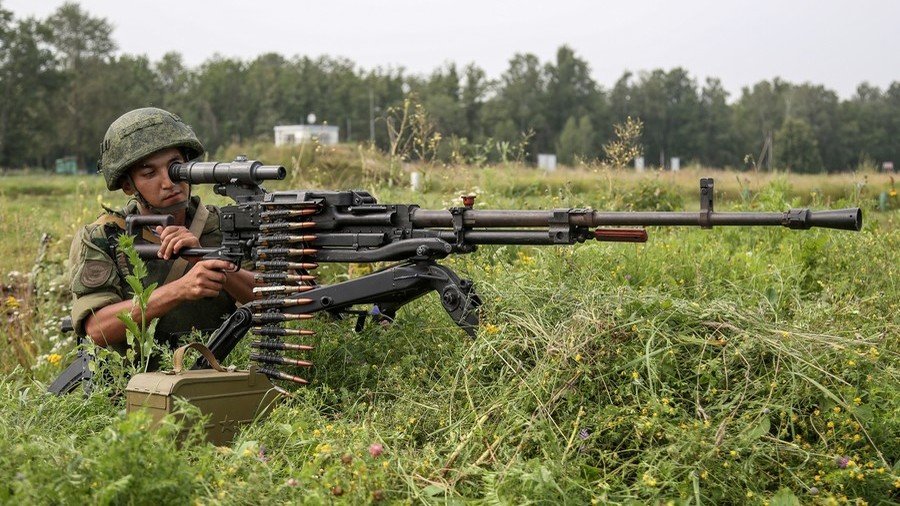 Russia has tested a battery-powered electric motor exoskeleton. The 'Iron Man' suit enables the wearer to accurately hit a target with a machine gun one-handed.
Soldiers wearing the high-tech exosuit can run faster and wield heavier equipment and weapons, Oleg Faustov – the chief designer of military industry company TsNIITochMash, which developed the exoskeleton – told TASS.
"We have already tested a prototype of an active exoskeleton, it increases physical capabilities of a serviceman," Faustov said. A soldier will be able "to shoot a machine gun with only one hand" and accurately hit the target, he added.
READ MORE: WWII relics & cutting-edge US drones: Spoils of Syrian war displayed in Russia (VIDEO, PHOTOS)
The main problem of exoskeletons with electric motors is the lack of batteries with the necessary characteristics, Faustov noted, adding that Russian specialists are working on improvements in this sphere.
TsNIITochMash has already designed a 'passive exoskeleton' and presented it at the Army 2018 forum, which was held outside Moscow this weekend. The robotic suit also enhances the physical abilities of the soldier, but to a lesser extent. It can lighten the load for wearers carrying up to 50kg by removing some of the weight from the musculoskeletal system.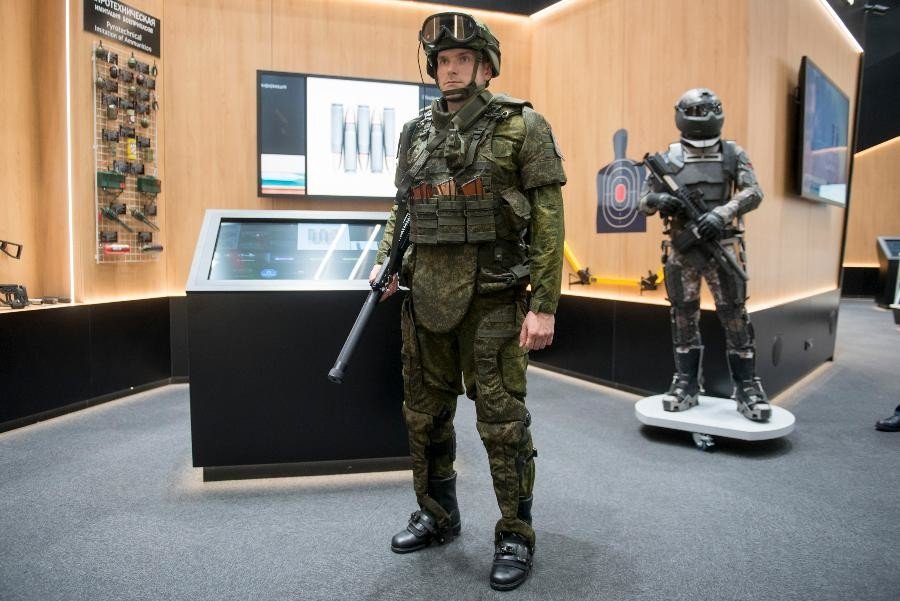 The passive exoskeleton is already part of the Russian Army's Ratnik (warrior), or 'future combat system', which also includes a range of surveillance, communications, and defensive equipment. The active exoskeleton may become part of Ratnik by 2025, according to Military-Scientific Committee Chair of the Ground Forces Aleksandr Romanyuta.
An exoskeleton is an external skeleton-like structure that follows the shape of the wearer's body and partially encases it. It has joints and other mechanisms allowing it to strengthen the body's natural movements.
READ MORE: Russian military lab unveils prototype of Star Wars-like combat suit (VIDEO)
'Wearable robots' are being developed worldwide for both military and civilian use. Medical exoskeletons could assist the movement of disabled or injured patients. Robotic suits could also allow construction workers to lift heavier loads.
Earlier the Russian military said that future wars will be determined by unmanned combat systems fighting on land, in the air, at sea, and in outer space, while the days of conventional soldiers on the battlefield may soon be numbered. "The soldier would gradually turn into an operator and be removed from the battlefield," Lieutenant General Andrey Grigoriev, head of the Advanced Research Foundation (ARF), said at that time.
Think your friends would be interested? Share this story!
You can share this story on social media: