2 Japanese nuclear plants hold simultaneous tsunami & multiple meltdown drills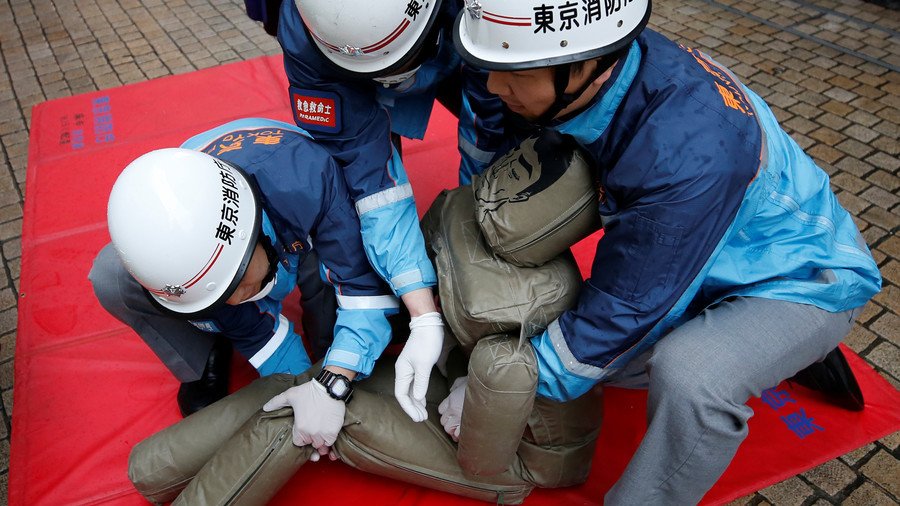 Japan has launched comprehensive nuclear disaster management drills to deal with a potential 'multiple simultaneous meltdown' scenario, should an earthquake-tsunami disaster similar to Fukushima in 2011 strike the nation.
On the afternoon of March 11, 2011, a magnitude 9 earthquake struck northeastern Japan, unleashing a deadly tsunami. At the Fukushima Daiichi Nuclear Power Plant, the tsunami caused a cooling system failure, resulting in a nuclear meltdown and the release of radioactive materials.
In order to avert a repetition of the Fukushima disaster, Japan has held its first response drill simulating several simultaneous atomic meltdowns at multiple plants.
The drill began on Saturday morning. Working under the assumption that the northern part of Kyoto Prefecture was struck by a powerful quake, thousands of government officials scrambled to evacuate people to safety, following hypothetical accidents in Oi and Takahama plants, which are located just 13.5 km from each other.
Self-defense forces and doctors were deployed to help simulate the evacuation of civilians from the 30-kilometer radius of the nuclear power plants. Relevant ministries and agencies, meanwhile, practiced providing the necessary supplies and support needed for such a massive operation across three prefectures. The drills witnessed emergency teams practicing helicopter deliveries to a hospital in Tsuruga City. Other civilians were involved in practising school evacuation techniques.
Over 21,000 people, including officials from the Cabinet Office, the Nuclear Regulation Authority and local governments will have taken part in the two-day drills. On Sunday, authorities plan to survey the mass evacuation of civilians using SDF ship and larger helicopters. Currently, Oi 3 and 4 reactors are in operation while Takahama 3 and 4 units are undergoing inspection.
Think your friends would be interested? Share this story!
You can share this story on social media: