Swedish nationalist party leader says Hitler is 'a good person surrounded by lies' during interview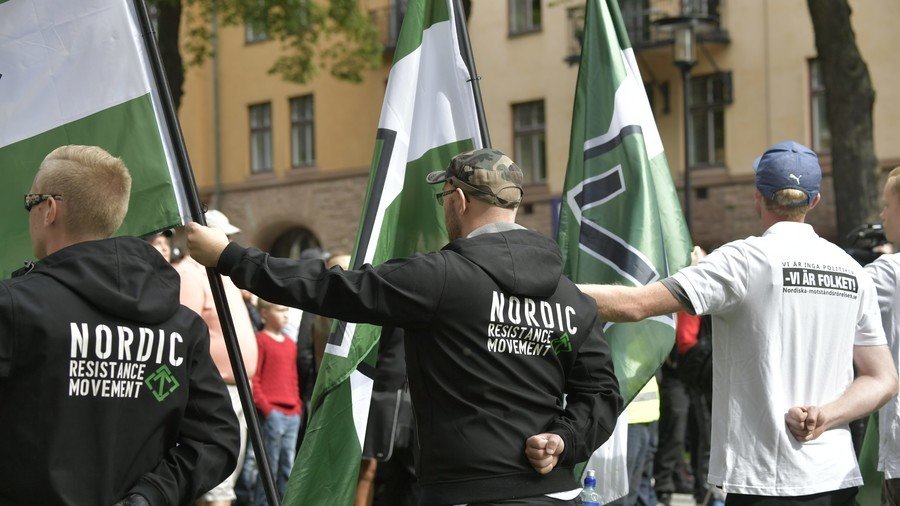 RT's interview with the Nordic Resistance Movement's Swedish leader Simon Lindberg went from migrant talk to a shock endorsement of Adolf Hitler's policies and blaming of Jews. His party is about to run in the general election.
The Nordic Resistance Movement (NRM) held a rally in Stockholm on Saturday, facing off counter-protesters, who decried its members as neo-Nazis. The pan-Nordic group was registered as a political party in Sweden back in 2015 and is now readying for its very first general election in two weeks.
Lindberg described the ultimate goal of the NRM as "securing the existence of our people." The phrase is an apparent nod to the so-called '14 words' slogan, coined by David Lane – notorious white supremacist and neo-Nazi from the US.
"We want to take back the country from the traitors at the parliament," Lindberg told RT's Maria Finoshina, claiming that "between 20 and 30 percent of the inhabitants in Sweden is non-European." The Swedes are soon to become a minority, the NRM leader believes, and eventually even can "cease to exist" in their own country.
"It's already too late to just stop the immigration. We must kick them back," he added.
Members of the NRM do not like being described as neo-Nazis, branding those who call them so "brainwashed," but at the same time do not hide their fondness for the policies of National Socialist German Workers' Party (NSDAP), better known as the Nazi Party of Adolf Hitler. But Lindberg went even further, and didn't shy away from praising Hitler personally and on camera.
Calling the Nazi leader "a very very good person for German people," he claimed that Hitler "freed Germany from the globalists and the bankers, that have a grip over Sweden today."
"He did what was necessary to secure his people's freedom," Lindberg went on. "We're National Socialists, as Hitler was and we do whatever it takes to take our nation back."
Germany's infamous Fuhrer is surrounded with "a million lies," which many "not so [well-thinking]" people do believe, Lindberg claimed. Other extremely controversial statements of the NRM leader included branding the Holocaust "probably the biggest lie in history," as well as a bizarre claim that "Jews declared war on Germany."
Following the shock interview, RT reached several counter protesters for comment, who were appalled by Lindberg's remarks. One protester said that "Hitler took 95 percent" of her family in concentration camps.
"I cannot believe he said that Hitler was a good guy. That must be a cause for police to intervene," another protester said.
Besides the heated and highly controversial rhetoric though, the rally and the counter-protest ended without any major incidents.
The Scandinavian country, which has a long tradition of welcoming refugees, has seen a rise in far-right and anti-immigration sentiment, fueled by a surge in gang violence. Over the past few years, dozens of Swedes were injured or lost their lives in attacks in suburbs dominated by immigrant communities. An estimated 400,000 people filed for asylum in Sweden since 2012.
The issue of crime and immigration has become a central theme ahead of the September 9 election, where the NRM wants to present 24 candidates to the public, hoping to pass the four percent threshold to enter parliament.
Think your friends would be interested? Share this story!
You can share this story on social media: