ISIS receives arms, funding 'under patronage' of foreign special services & NGOs – Russia's UN envoy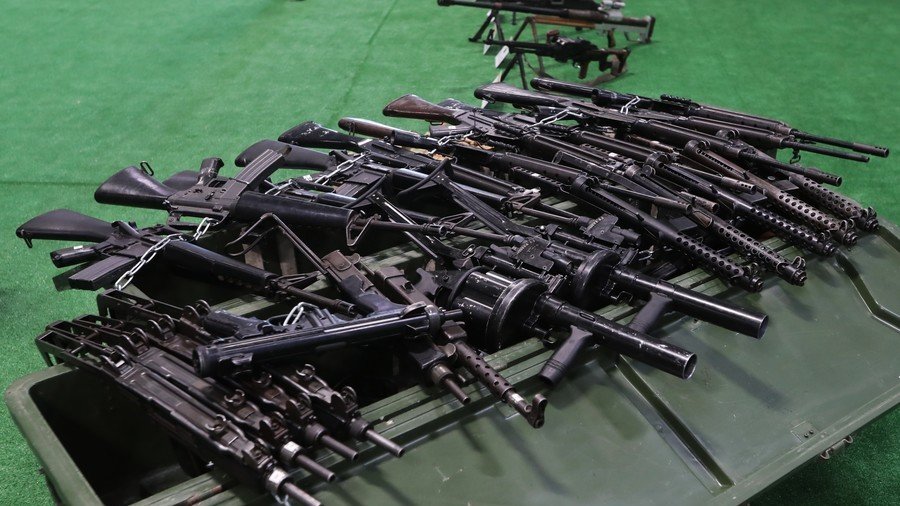 The remnants of ISIS continue to receive foreign funding and arms supplies, Russian ambassador Vassily Nebenzia told the UN Security Council, adding that the terrorists are seeking to diversify their crippled sources of income.
"Evidence continues to amass that weapons are being smuggled [to Islamic State (IS, formerly ISIS/ISIL) terrorist group in Syria] from outside, including through semi-legal organizations or even under the patronage of security services from other countries," Nebenzia told the United Nations on Thursday. He said Moscow hopes to have a "meaningful discussion" about putting an end to this malicious practice during an international conference on combatting illicit arms trafficking in Moscow on September 3-4.
"Moreover, IS continues to receive funds from outside sponsors, acting under the guise of charity funds, religious organizations and other non-governmental structures," he added.
Even though the terrorist organization lost its foothold and has had its main sources of income significantly crippled, as the Syrian army –with Russia's support– regained control of the bulk of the country's territory, according to Nebenzia IS continues to represent a considerable threat.
"IS militants are going all-in, often dragging minors into conducting terrorist acts, including kids younger than 12. Quite possibly the frequency of terrorist attacks, especially in the Idlib area, may increase," Nebenzia warned.
However, the downfall of IS may allow Al-Qaeda, which receives up to $40 million in financing, to "raise their head" in Syria. Al Qaeda is being strengthened through their networks in North Africa, where the notorious terrorist organization is heavily invested in criminal business activity and is trying to control agro-industrial holdings, the envoy warned. "Putting an end to ISIS, Al Qaeda, as well as related groups' threat, can only be achieved on a truly collective basis," Nebenzia said.

​According to the UN report, between 20,000 and 30,000 militants still operate in Syria and Iraq, "roughly equally distributed between the two countries." The hardly impenetrable Syrian-Iraqi border remains under the watchful eye of US-led coalition air power.
​
Russia has repeatedly noted that the remaining few IS-infested areas in Syria by coincidence overlap with the foreign-controlled zones. Their presence creates problems especially for Idlib province, in north-west Syria, to where most of the surviving jihadists have retreated. The liberation of Idlib is currently among the top priorities for the Syrian army. The US-backed Kurdish forces in east and north-east Syria, supported by about 2,000 American 'military advisors', also remain an area of concern. Lingering pockets of Islamist resistance are also present along the Jordanian and Israeli border.
​
Shortly before Nebenzia spoke at the UN Security Council, Russia's Foreign Ministry spokeswoman noted that some of the terrorists are hiding in the Rukban refugee camp on the border with Jordan, to which neither Syrian authorities nor the UN have access.
​
"ISIS militants, hundreds of them, as well as al-Nusra militants in possession of heavy arms are hiding among the civilians, who are in fact being held hostage and used as human shields," Maria Zakharova said. "We have actual information that confirms that this happens with the privity of the US military, who control the 55-kilometer zone around its illegal Al-Tanf base on the Syrian territory."
Like this story? Share it with a friend!
You can share this story on social media: