'Oldest trick in the book': US blaming & sanctioning Russia to deflect from failings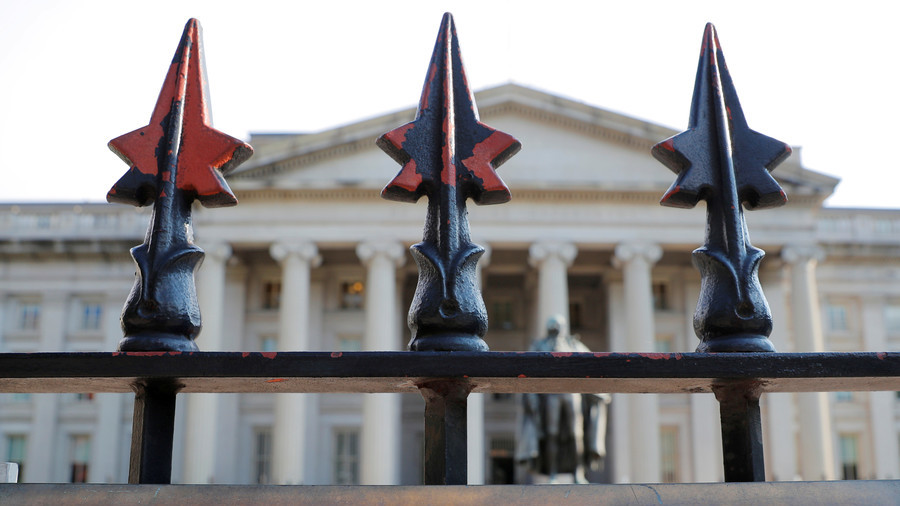 The US government continues to use sanctions against Russia trying to cover up their own shortcomings domestically and blaming American division and economic crisis on an outside power, independent journalist Joe Lauria said.
The first batch of the most recent sanctions against Russia comes into force on Wednesday. They focus on exports of US-made electronics used in the aircraft and space industries. Moscow said these measures won't affect ordinary people.
However in November, Moscow could face a second wave of restrictions, described by a US State Department official as "more draconian."
Washington says the new sanctions are in response to the poisoning of a former double agent Sergei Skripal and his daughter Yulia in Britain in March this year. However, the investigation into the case is still ongoing and no hard evidence of Russia's alleged involvement has been provided.
RT discussed these latest sanctions with independent journalist Joe Lauria who believes US politicians are using the so-called "Russian threat" as a distraction from internal problems.
Lauria said that there doesn't appear to be any limits on how far Washington and its Western partners could go to in order to exert pressure on Russia: "They keep finding new people and new companies and things to sanction despite those nice words we heard, the Europeans are going along with that for the most part."
He noted that it is "really hard to understand why Angela Merkel has gone along with this since it's hurt German interests more than anyone else's…German businessmen were against this from the beginning. Merkel was trying to be a good US follower and a member of NATO."
Lauria outlined the reasons given by the Treasury Department for this new round of sanctions - including Russia "subverting US democracy."
"No, American plutocrats have bought the American political system a long time ago. It is not Russia that is undermining US democracy or bringing racial and economic divisions. 30 years of neoliberal economic policies have caused the collapse of the middle class in the US. The American people are finally are waking up to that," he argued.
He thinks the main reason for blaming Russia is that "the American people on the right and on the left in the last 2016 election created an insurgency that spooked the establishment."
According to Lauria, there is a bipartisan consensus to blame Russia for the problems created by the US government's policies.
The Treasury Department also blamed Russia for enabling the Assad regime. Lauria argued that "the US and its allies have enabled jihadists in Syria to try to overthrow the Assad regime. And Russia intervened in order to stop them from winning."
"Jihadists had bombed many European countries right now and Russia has intervened to help the West, and help America actually, and instead they are being blamed," he continued.
In his view, the sanctions are a pure projection by the US onto Russia for its own political and geopolitical aims.
The tough second wave of sanctions is due to kick in November if Russia doesn't cooperate. Asked about whether it is a coincidence that it is the same month as the midterm elections in the US, Lauria said that it could be - adding that the Democrats are still making Russia their main issue "which is not a winning formula, it didn't help Hillary Clinton."
"They blame Russia to deflect from their own failings…They can't face what they are doing, so it is still "Russia, Russia" all the time rather than making the adjustments on their own policy to try to win an election," he said.
He suggested that eventually it will have come to an end when they finally realize that this strategy is not working but it might not be until the 2020 presidential election.
"If the Democrats lose, or do not do as well as they hope in the November election having used Russia again as their main talking point, they may have to readjust and realize that the progressive wing of the party is growing and that the American people don't give a damn about Russia," he explained.
He believes that Democrats need to leave 'Russia issue' alone while addressing real issues and getting back to normal relations with Moscow "that is imperative for world peace essentially."
"For better functioning of the international system Russia has to be part of it," he adds.
"The whole thing is quite a conundrum to me, why they continue to politicize this issue and use sanctions as some way to help them domestically. Except that they are trying to cover up their own shortcomings, their own shortchanging of the American people, to try to blame our division and our economic crises and our racial divide here on an outside power…Which is the oldest trick in the book going back to the beginning of civilization," he told RT.
Daniel McAdams, executive director at Ron Paul Institute, agrees that sanctions right now are "the only tool in Washington's toolbox. However irritating it might be to the Europeans, the actions are much stronger than words."
"What is amazing about these new sanctions that were announced by the undersecretary of the Treasury is that they sound identical to the Obama-Hillary Clinton foreign policy. The question is, President Trump was elected on the different foreign policy, why do the people who are working for him pursue absolutely opposite foreign policy? It is completely perplexing," McAdams said.
Think your friends would be interested? Share this story!