2 men sentenced to death for gang-raping & slitting throat of 8yo girl in India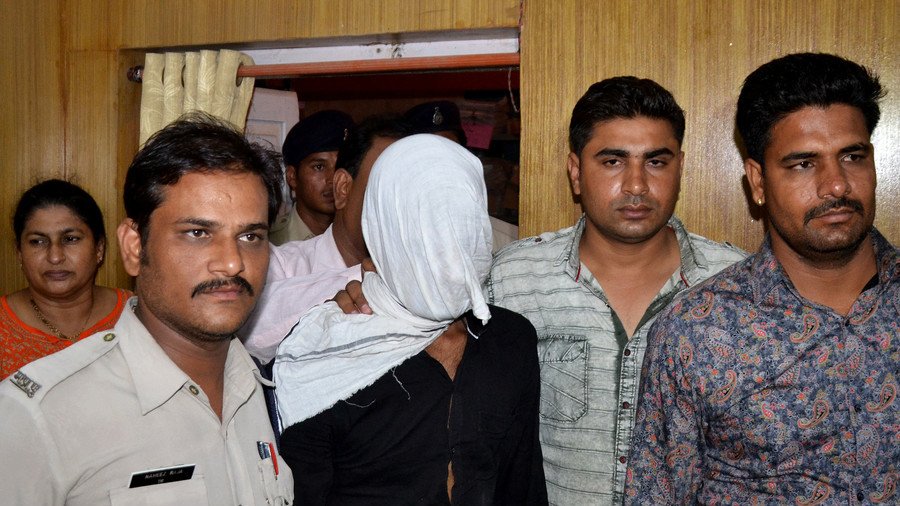 Two men convicted of abducting, sexually assaulting and attempting to kill an eight-year-old girl in Mandsaur district of India have been sentenced to death under the country's newly toughened anti-rape legislation.
It took less than two months for the Special Investigation Team of the prosecutor to build a case against Irfan Mewati, 20, and Asif Mewati, 24, and to prove without a reasonable doubt that, on June 26, the pair brutally raped and tortured a schoolgirl before attempting to slit her throat.
The 350-page case, based on 92 witness testimonies and over 100 pieces of evidence, including CCTV footage and DNA samples, was enough for Sessions Judge Nisha Gupta in Mandsaur to sentence the duo to death, under the revised Indian Penal Code and under relevant provisions of the Protection of Children against Sexual Offences Act, which mandates capital punishment for persons committing rape on victims under 12 years of age.
Noting that the accused "do not deserve leniency" in this "rarest of the rare case," Judge Gupta stressed that "death was only way out to punish" Asif and Irfan.
On June 26, the criminal duo lured an eight-year-old student from outside her school where she was waiting for her father. They took her to a secluded spot and gang-raped her. The rapists then slashed her throat and left her to die.
The child was however saved by locals and regained consciousness in hospital some 18 hours after the assault. The girl suffered severe injuries to her neck, face, head and private parts, and is still recovering in hospital.
"The act of the two accused was of a cruel and gruesome nature," the judge was quoted as saying by assistant district prosecution officer Nitesh Krishnan. "The accused not only raped her, but they attacked and injured her private parts and other delicate body parts with a knife."
The rape of an eight-year-old from Mandsaur ignited outrage among locals who carried out protests across Madhya Pradesh state of central India, demanding justice. Tuesday's verdict was the sixth capital sentence handed down in Madhya Pradesh, which was the first state to enact the death penalty for rapists of minor girls below 12 in December.
Like this story? Share it with a friend!
You can share this story on social media: