Kindergarten children dressed as ISIS militants for Indonesian independence day parade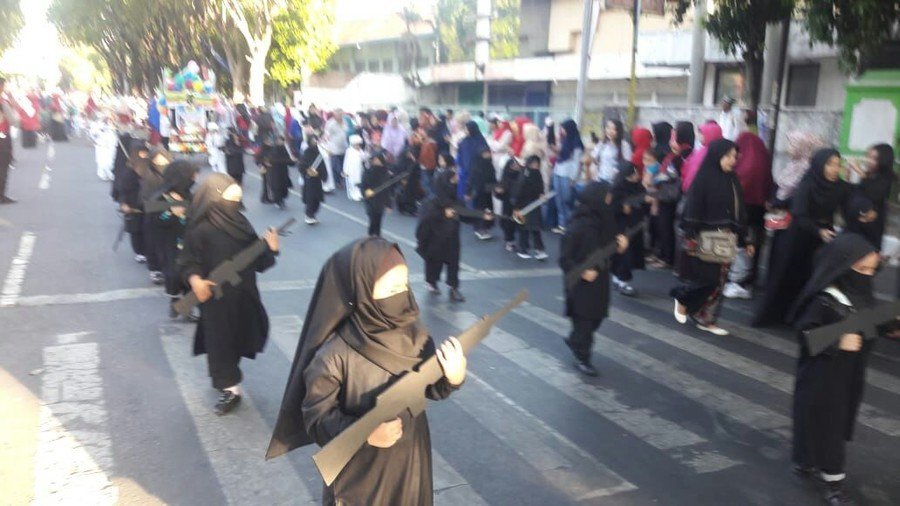 Children at an Indonesian kindergarten were dressed up in ISIS-style costumes and given rifle replicas to hold during an independence day parade, prompting raised eyebrows and an apology from event organizers.
Photos and videos of the parade, which appeared online, show lines of girls dressed in head-to-toe black veils while carrying cardboard-cutout guns. When asked to explain the decision, TK Kartika kindergarten head Hartatik apologized "deeply" and insisted that they were not trying to "instill violence" in the young girls, but simply raising "the theme of the struggle of the Prophet to increase faith and devotion to Allah."
On Independence Day yesterday, a video of a schoolboy climbing a flagpole in west Timor went viral on Indonesian social media. Today another video went viral: kindergarteners in black niqab carrying guns joined Independence Day carnival in Probolinggo, East Java #17an#RI73pic.twitter.com/yN9tdyZwz5

— Yenni Kwok (@yennikwok) August 18, 2018
Hartatik said the school, which is located on the site of an Indonesian military complex, had chosen the strange attire to save money by using things the school already had on hand — but did not explain why the props had been needed in previous years. The school "never thought" about the impact, because "the important thing is to take part in the parade, that the children were happy," Hartatik said.
At a media conference called to explain the incident, Probolinggo military commander, Lieutenant Colonel Kav Depri Rio Saransi, said the intention was just to educate children about the "struggle of Islam" but was not radical in nature.
"There is not the slightest bit of radicalism. I emphasize that purely there is no such thing as an element of intentionally showing the existence of radical activities," he said.
The furor surrounding the children's parade even prompted the House speaker in the Indonesian parliament to denounce it as an "inappropriate spectacle" which gives a "poor perception" and could "damage children's ideas."
Like this story? Share it with a friend!
You can share this story on social media: