Teens, 11-year old boy carry out attacks in Chechnya claimed by ISIS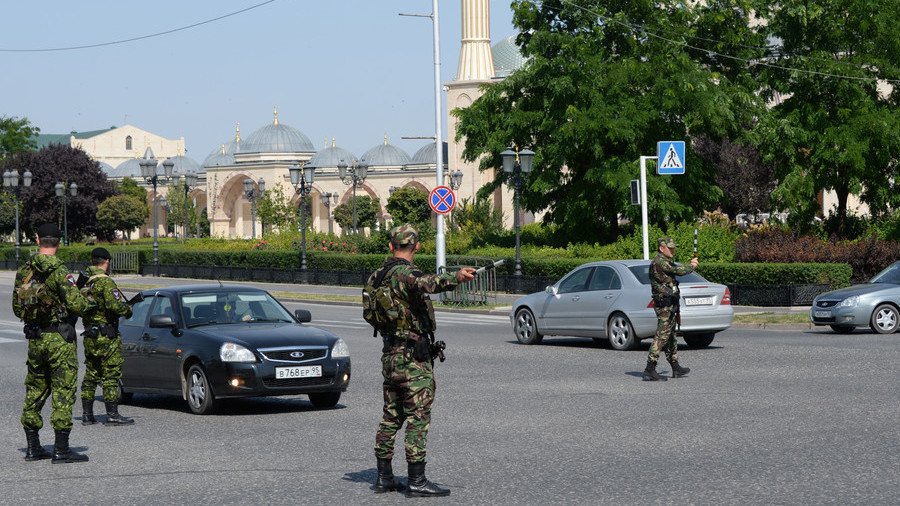 A stabbing attack, suicide bombing and car ramming targeting police officers in Russia's Republic of Chechnya on Monday were carried out by radicalized teenagers, four of whom were eliminated and one detained.
Two knife-wielding suspects tried to storm a police station in Chechnya's Shalinsky District, some 36 kilometers south-east of capital Grozny, at around 10:30am local time (7:30am GMT). They managed to injure two officers before being shot dead, Russia's Investigative Committee said.
At approximately the same time, another male blew himself up near a police post in the nearby village of Mesker-Yurt. There were no injuries among the officers and civilians as a result of the attack. The suicide bomber survived the blast and was taken to hospital under police supervision.
Two perpetrators then ran over two traffic officers in the center of Grozny. Police employed firearms during the high-speed chase that followed, killing both the driver and his passenger, who was his 11-year-old brother, according to Vesti.ru.
Russia's Investigative Committee has posted online a video from the scene of the attacks.
All of those involved in the attacks were minors, with the "eldest among them being 16 years old… and the youngest being 11," Chechnya's National Policy Minister Dzhambulat Umarov told Tass.
Ramzan Kadyrov, the head of Russia's Republic of Chechnya, said that the perpetrators could have been influenced by Islamic State (IS, formerly ISIS) terrorists via social networks. But he stressed the situation in the republic was "calm" and the terrorist organization actually had "no support" in the region.
Later on Monday, Islamic State did claim responsibility for the three attacks in Chechnya through its 'news agency' Amaq.
READ MORE: Biking Kadyrov pedals for 40 km to inspect Chechen capital Grozny (VIDEO)
IS has developed "special programs" to indoctrinate teens with extremist ideas, "that's why we find those who are older less and less among the militants. Currently, it's often boys aged around 11 or 12," Umarov told Tass.
The identity of the perpetrators has been established, with all of them being residents of Chechnya, Umarov said. There were no civilian fatalities as result of the attacks, but several officers were injured and remain in "quite serious condition," he added.
Think your friends would be interested? Share this story!
You can share this story on social media: