Former UN chief and Nobel Peace Prize winner Kofi Annan dies at 80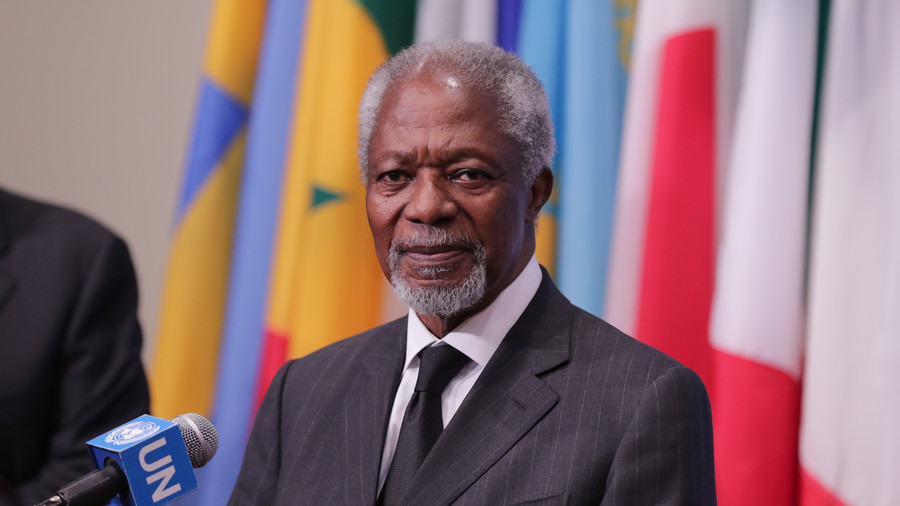 Former UN Secretary General and famed diplomat Kofi Annan, 80, passed away in a Swiss hospital on Saturday, succumbing to a "short illness," according to his family.
The statesman passed away peacefully, surrounded by his wife and three children, Annan's family and foundation announced in a statement praising him for fighting for a "fairer and more peaceful world." His family asked for privacy in their time of mourning.
It is with immense sadness that the Annan family and the Kofi Annan Foundation announce that Kofi Annan, former Secretary General of the United Nations and Nobel Peace Laureate, passed away peacefully on Saturday 18th August after a short illness... pic.twitter.com/42nGOxmcPZ

— Kofi Annan (@KofiAnnan) 18 августа 2018 г.
A renowned diplomat, Annan was born in 1938 in the British Crown Colony of Gold Coast, which later became the independent nation of Ghana. Starting his career in the World Health Organization, Annan then served as Ghana's director of tourism.
He went on to hold several high-ranking offices within the United Nations. In the early 1990s, as the Under-Secretary-General for Peacekeeping, Annan led a UN mission to war-torn Somalia and was the organization's special envoy to former Yugoslavia.
In 1997, Annan was elected UN Secretary General – a position he held until 2006. His tenure coincided with several international crises, such as the 1999 NATO bombing campaign in Yugoslavia, the US invasion of Iraq and Afghanistan, and an escalation in Israeli-Palestine violence known as the Second Intifada.
In 2001, "for their work for a better organized and more peaceful world," Annan and the UN became co-recipients of the Nobel Peace Prize.
After stepping down from his position as secretary general, he established the Kofi Annan Foundation and focused on humanitarian work.
In 2012, Annan was briefly recalled by the UN and the Arab League to lead a peace mission during the early stages of the civil war in Syria. He proposed a six-point peace plan to end the conflict, but his suggestions were never implemented, and he resigned.
Think your friends would be interested? Share this story!