'They were warned' say Bahraini officials after viral clip of women being groped in pool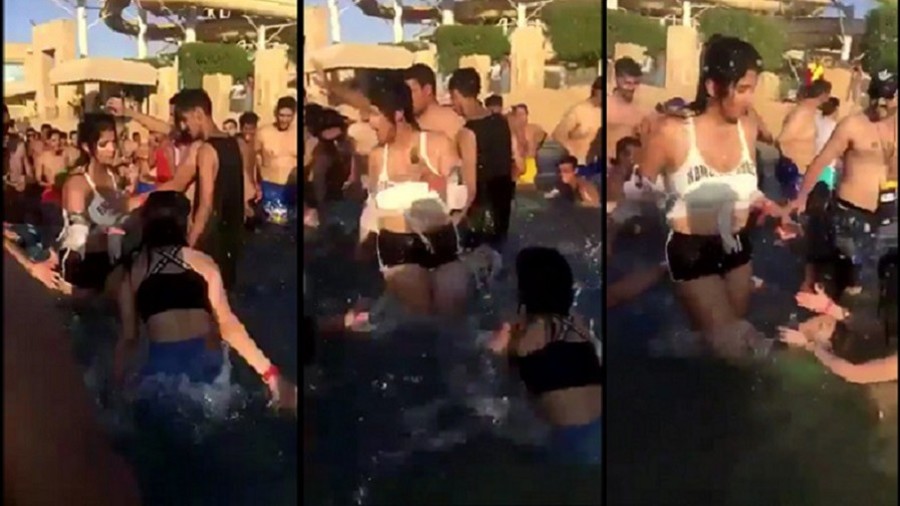 Shocking footage of two women being sexually harassed in a pool in Bahrain has stirred outrage on social media. Bahraini authorities reportedly responded saying the two had been "warned" not to join the pool of "bachelors."
The viral video from August 7 shows the women trying to make their way out of a pool while a dozen men grope and grab them by their bathing suits. The 10-second clip, understood to be from "The Lost Paradise of Dilmun Water Park" resulted in the highest trending hashtag in the country.
The video opened a debate on social media over who was at fault for the incident, with some suggesting the blame was on the victims for putting themselves in that situation in the first place.
One tweeted: "A prostitute deserves only that. Congratulations to all who harassed her."
While another user said:
But there was a vociferous chorus from people condemning the assault.
Following the outcry, senior officials said the women had been warned against entering the male-only area and dismissed allegations that the women had been sexually harassed, local newspaper the Gulf Daily News (GDN) reports.
"The two women themselves went to an area where there were only bachelors," an official was quoted saying by the paper.
"The matter was reported to the police and the women were warned not to repeat such actions anywhere, anytime.
"The individuals involved in the incident were strictly advised to avoid crowded pools," he said, claiming that the women had not been sexually harassed.
According to the GDN, a team of supervisors intervened to halt the attack.
The paper also reported that security has been ramped up at the water park as a result of the incident.
An investigation was opened in cooperation with the Ministry of the Interior in relation to the case. As a result of this investigation, the attackers received a warning, Mashable reports.
If you like this story, share it with a friend!
You can share this story on social media: