Back US on Iran sanctions or face 'serious consequences' for business – ambassador to UK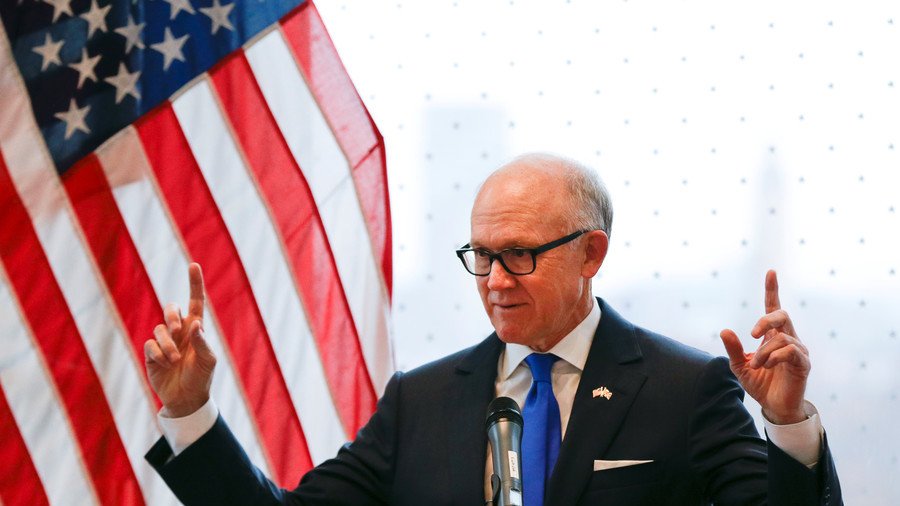 In the latest threat to the US-UK special relationship, the US' top diplomat in Britain has called on London to back its pressure on Iran, warning of "serious consequences" for businesses who flaunt Washington's sanctions.
Accusing Iran of "squandering its money on proxy wars and malign activities abroad," US Ambassador Woody Johnson's op-ed in the Sunday Telegraph asked the UK to "use its considerable diplomatic power and influence" to join the US "as a united front" in its effort to secure "a genuinely comprehensive agreement" on Iran ending its nuclear program.
Reiterating a threat made by his boss, US President Donald Trump, on Tuesday, Johnson added that: "The President has been explicit: any businesses that put their commercial interests in Iran ahead of the global good will risk serious consequences for their trade with the US."
Earlier this week, British Minister for Middle East Affairs Alistair Burt backed the current deal negotiated with Iran, rejecting the idea that the UK would "go along with" the US.
"We made it clear that we regard the nuclear deal as an important part of the region's security. We think this is really important, sticking to a deal a number of partners have agreed to," he said.
The US position was further undermined by an unnamed UK minister who accused Trump of simply throwing "red meat" to his support base, calling the sanctions strategy counter-productive, according to the Telegraph.
Johnson's plea comes days after US President Donald Trump upped sanctions on Iran after the US withdrew from the 2015 Joint Comprehensive Plan of Action, also known as the Iran nuclear deal, in May. The historic deal, backed by the US, Russia, and China, and negotiated by the EU, saw the lifting of economic sanctions against Iran for ditching its nuclear program.
Calling the renewed sanctions "the most biting ever imposed," Trump also threatened via Twitter that "anyone doing business with Iran will NOT be doing business with the United States."
READ MORE: 'Americans lack honesty': No meetings planned with US at UNGA, Iranian FM Zarif says
The US pullout has been met with disbelief by European allies, who issued a statement on Monday committing to the 2015 deal and encouraged investors to maintain business ties with Iran. UK Foreign Secretary Jeremy Hunt was among the signatories.
On Saturday, German Economy Minister Peter Altmaier told Bild newspaper that "we don't let Washington dictate [their will] on trade relations with other countries," labeling the US sanctions as one instance in which America's neglect of its partners was clearly shown.
The latest US-EU disagreement comes at a diplomatic low point between Washington and the bloc, who are already locked in a dispute over tariffs on steel, aluminum, and automobiles. A tense NATO summit in July also saw Trump beat up on allies over their defense spending and accused Germany of being a "captive" of Russia.
Subscribe to RT newsletter to get stories the mainstream media won't tell you.
You can share this story on social media: