Russia's chemical disarmament confirmed by OPCW, while US has 'problems' in the area – Lavrov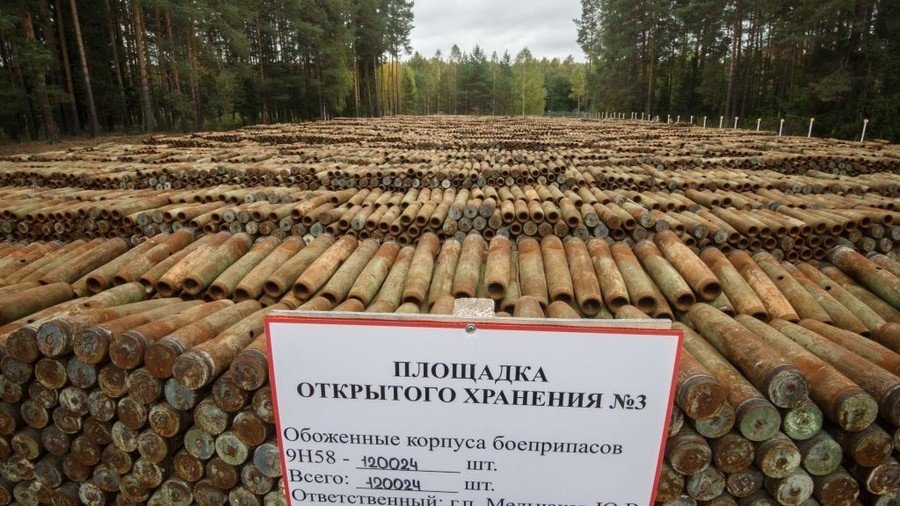 Russian chemical disarmament has been confirmed by the OPCW, while the US asked to postpone the process till early 2020s, Foreign Minister Sergey Lavrov said commenting on the new round of American sanctions over the Skripal case.
"Three years ago, based on the results of all conceivable inspections we we've received confirmation, within the OPCW (Organization for the Prohibition of Chemical Weapons) framework, that the process of chemical disarmament by Russia has been completed," Lavrov told journalists in the Kazakh city of Aktau on Sunday.
"We didn't close our facilities to the inspectors. They visited everything they wanted to visit and came to the conclusion, which I just mentioned," he added.
The US had to complete its chemical disarmament "within roughly the same timeframe as us (Russia)," the minister reminded.
"But they again asked for a reschedule – this time now until early 2020s. So, we should rather be speaking about problems with chemical disarmament in the US," he pointed out.
Earlier this week, the US State Department slapped Moscow with a new round of sanctions after saying that it had "determined" that Russia was responsible for the chemical poisoning of double agent Sergei Skripal and his daughter Yulia in the UK in March.
The claim wasn't backed by any evidence, with the American side promising even more restrictions in three months if Russia doesn't provide guarantees that it won't change its ways regarding the chemical weapons use and prevent international inspectors from visit production facilities in the country.
According to reports, the first package of sanctions, scheduled to come into effect on or around August 22, will include a ban on exports of sensitive national security goods to Russia. The second – harsher – round of sanctions is said to include downgrading diplomatic relations, banning the Russian airline Aeroflot from flying to the US and cutting off nearly all exports and imports.
READ MORE: 'No surprise if Moscow recalls ambassador': Russia will lash out against new sanctions, say experts
Lavrov reiterated that Russia rejected the American accusations, saying that "anybody, who is at least slightly familiar with the so-called 'Skripal case', understands the absurdity of the statement [on Moscow being guilty] contained in the State Department's official paper," he said.
The UK has been claiming that the Skripals were poisoned by a Soviet-designed toxin called 'Novichok' and, based on this, blamed Russia for the attack. However, more than four months after the incident London has been unable to produce any convincing proof of Moscow's involvement in the poisoning.
Think your friends would be interested? Share this story!
You can share this story on social media: