How did they get it so quickly? Twitter mocks US journalist's bafflement at t-shirt on Russian TV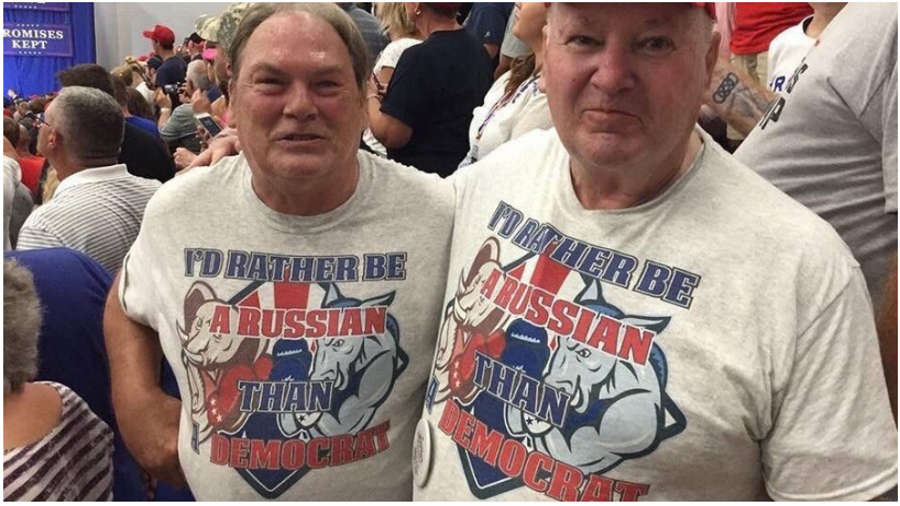 A self-styled Russia expert who conspiratorially questioned how a Russian TV host got hold of a controversial t-shirt boasting the phrase "I'd rather be a Russian than a Democrat" found her answer online: probably on Amazon.
Julia Davis describes herself as a Russian media analyst on Twitter. Essentially, she watches Russian media and tweets about it, adding a lucrative twist of conspiracy if she can.
The t-shirt she was referring to has gone viral on Twitter after two American men at a Trump rally in Ohio were both pictured wearing them. A Russian TV host took the opportunity to hold one up during his program to poke fun at US politics after the photo caused controversy in America.
Davis, who never misses a Russian news bulletin if she can help it, appeared shocked that a t-shirt could make it on to Russian state TV so quickly.
Davis accuses Russia of swinging entire elections, but still appears surprised that a Russian state TV station has the resources to get hold of a t-shirt.
While the TV station didn't disclose its methods, Twitter helped reveal the wonders of modern logistics to Davis, as well as the huge leaps in t-shirt printing technology, which allows t-shirts to be printed almost anywhere… especially with a TV station's budget.
When Davis noticed that parts of the Russian media had now started to debate her attempts to make the purchasing of a t-shirt seem like the next global conspiracy, she deployed some of her famed media analysis.
The word 'nuts' appears a little judgmental from someone who's been tweeting about a t-shirt for several days. However, in the world of Russian analysis, anything goes.