Media darling 'Aleppo survivor' praises jihadi mercenaries training anti-Assad rebels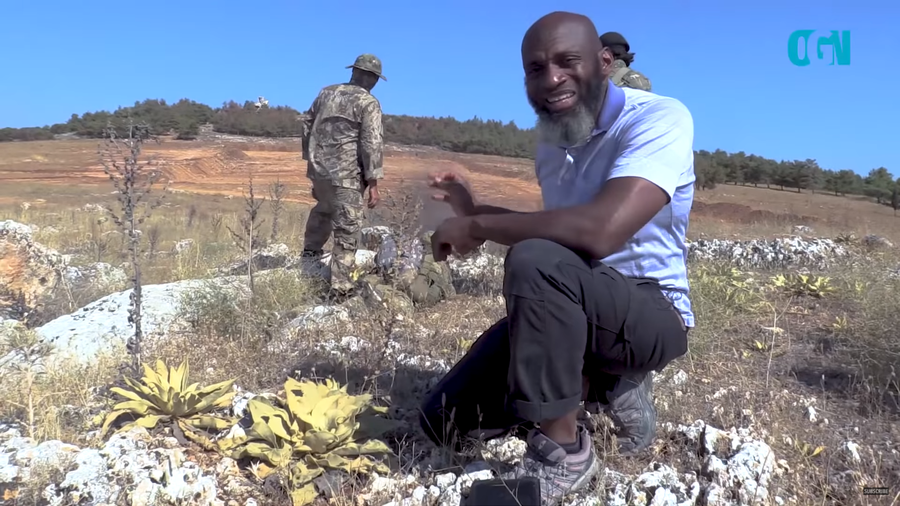 Bilal Abdul Kareem, a self-identified journalist who found his fame with dramatic "under-fire" reports from Aleppo, Syria, is doing what he does best – mingling with militants and jihadist mercenaries.
In a report for 'On the Ground News,' which claims to bring "accurate, confirmed & up to date news" (as well as "document Assad/Putin war crimes"), Kareem is seen in a training camp with militants training to repel Syrian government forces in Idlib. Determined to "make sure that what happened [in Aleppo] isn't going to happen in Idlib," the fighters are training with machine guns under the guidance of a mercenary group.
Most of the report sounds like an advert for the weapons – something Kareem calls a "PKC." It is in fact one of the multitude of variants of the Kalashnikov machine gun, although no variant under that name actually exists. There is the PKS, often misspelled by English-language sources as PKC, but that is not the one shown in the video either.
Using terms such as "automatic machine gun," Kareem extolls its virtues and the progress the militants are making in training to use it. He also laments how, despite the seven-year long war, the expertise is something the fighters are still lacking in. He then identifies the trainers: Malhama Tactical.
A 10-member group of Uzbek militants, Malhama Tactical is the first ever private jihadist contractor. It has seen fighting and training alongside members of various groups in Syria, including internationally-recognized terrorists from Al-Nusra and Tahrir al-Sham, among others. The Uzbeks are also adept at digital PR, jumping between social media accounts as they are banned for extremist content.
Bilal Abdul Kareem, a New York-born former comedian turned anti-Assad journalist, is no stranger to controversy like this. In late 2016 he served as a useful tool for Western media condemnation of the Syrian and Russian operation to liberate Aleppo, posting goodbye messages together with other "civilian activists" as government forces were advancing. He was later seen alive and well, posing together with a suicide-belt-equipped militant. Kareem also believes he is on a US kill-list, claims he has escaped five separate airstrikes, and is suing the Trump administration.
Subscribe to RT newsletter to get stories the mainstream media won't tell you.