Bolivian leader digs up Pompeo comment about 'transition' in Venezuela after attack on Maduro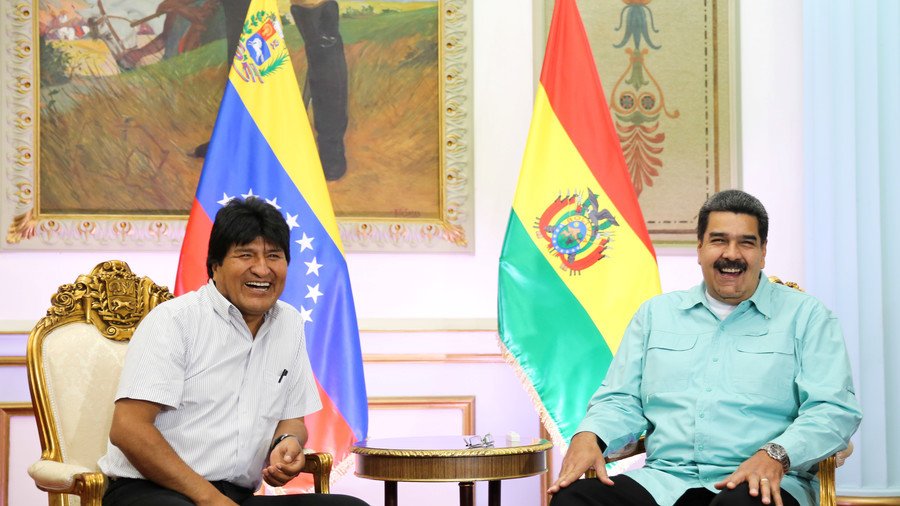 Evo Morales has lashed out at "Yankee interventionism" after an assassination attempt on the president of Venezuela, pointing to comments made by Mike Pompeo that the US is hoping for "transition" in the South American state.
Morales, Bolivia's staunchly anti-American president, took to Twitter to accuse the US of having "plans" for Venezuela, a day after Venezuelan president Nicolas Maduro was targeted by armed drones during a military parade in Caracas. Shortly after, Maduro blamed the "Venezuelan ultra-right in alliance with the Colombian extreme right" for the attack.
READ MORE: In post-attack speech, Venezuela's Maduro blames 'ultra-right' & Colombia
Morales pointed out the fact that then-CIA director and current Secretary of State Mike Pompeo had openly boasted about the CIA's dealings with Mexico and Colombia, in hopes of fostering a "transition" in Venezuela.
"On 07/20/17, then chief of the CIA, Mike Pompeo admitted efforts with Mexico and Colombia to foster a 'transition' in Venezuela. Then, on 8/10/17, in the White House, Trump pressed his aides to invade Venezuela. The world is well aware of the plans of the US against Venezuela," Morales tweeted on Sunday. In follow-up tweets, Boliva's leader cited reports that US President Donald Trump had explored a "military option" against Caracas, describing such actions as "Yankee Interventionism."
At the Aspen Security Forum in Colorado last year, Pompeo, apparently speaking on behalf of the CIA, said that "we are very hopeful that there can be a transition in Venezuela," adding that the "CIA is doing its best to understand the dynamic there, so that we can communicate to our State Department and to others."
He also revealed that he had met with officials in Colombia and Mexico to discuss regime change in Venezuela.
"I was just down in Mexico City and in Bogota a week before last, talking about this very issue, trying to help them understand the things they might do, so that they can get a better outcome for their part of the world and our part of the world."
The video of Pompeo's fortuitous comments – now more than a year old – has resurfaced on Twitter, with even Maduro retweeting Morales' observations.
National Security Advisor John Bolton dismissed claims that Washington was somehow involved in the bizarre attack that appeared to target Maduro.
"I can say unequivocally that there was no US government involvement in this at all," Bolton told Fox News.
Like this story? Share it with a friend!
You can share this story on social media: