'They drank water all day': Little orphans of IS fighters struggle to adapt to peace after Iraq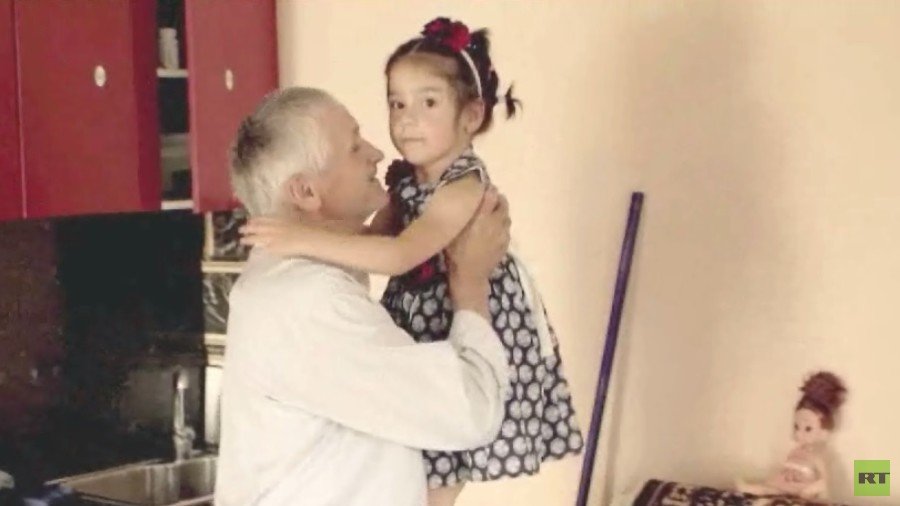 Returning to normal life hasn't been easy for the two sisters orphaned in Iraq after their parents were killed fighting for Islamic State. RT visits the girls one year since they arrived to their grandparents in Russia's Dagestan.
Fatima and Khadija were brought back to their grandparents last August who had had little hope that they survived in the fighting. Despite still dealing with the post-war trauma, the little sisters feel safe in their home on the outskirts of Makhachkala in the southern Russian republic of Dagestan.
"The girls look and behave like any other child of their age, despite the traumatic experience they went through," Madina Kochenova reported from Dagestan's capital. Elder sister Khadija is open and active, while Fatima, who is two years younger, is quiet and introverted, often seeking the company of her grandfather, Anwar.
"She doesn't let me go anywhere. She says her dad also left in the morning and never came back in the evening. She tells me how the gas station where he worked was bombed. Tells me how the planes arrived, dropped their bombs and left," the grandfather said.
In May 2015, both of Anwar's sons secretly left Russia to join Islamic State (IS, formerly ISIS/ISIL) terrorist group in Iraq, with the elder one taking his wife and two daughters with him.
"About a week after they left, I received a message from my son, saying they were in Turkey. I replied: 'What do you mean – in Turkey?' But I instantly understood everything and felt terrible," he recalled.
Anwar last talked to his son before the Iraqi forces, backed by the US-led coalition, launched a bloody operation to retake the city of Mosul, which was Islamic State's main stronghold in Iraq. Shortly after that Fatima and Khadija's mother and father were killed in a drone strike, leaving the girls all alone.
Weeks later, the scared and traumatized sisters turned up at an orphanage in Baghdad. They were among a group of Russian-speaking kids, orphans of IS fighters, who appeared in RT's report from the Iraqi shelter. After the report was aired, RT launched a campaign to find relatives of those orphans, and Fatima and Khadija were recognized in the footage by a seven-year-old girl who used to play with them in Makhachkala.
"I remember when the film crew arrived and they showed me the footage. I couldn't believe it. I couldn't believe it was possible that my girls could come back home," Anwar recalled.
Despite the joy of their miraculous reunion, the past year has been difficult for the family. The grandfather says it's only now that some of their fears have stepped away.
READ MORE: 5 Russian-speaking children orphaned in Iraq brought back home to Russia
"Khadija remembers how difficult and dangerous it was to go get water. So when they arrived, they were always thirsty. They drank like five liters of water a day. Only in that past three weeks this has stopped and they no longer wake up at night wanting to drink," he said.
There are still many families across Russia's North Caucasus searching for their grandchildren lost in Syria and Iraq. Anwar has a message for them: "If there's anything – one sign that they're alive – you have to grab it, run around, beg, ask for help. There are good people in the world. "
Like this story? Share it with a friend!
You can share this story on social media: