5 Russian-speaking children orphaned in Iraq brought back home to Russia
A plane carrying five Russian-speaking kids who were left stranded in an orphanage in Baghdad arrived in Russia on Friday. The children were brought to Iraq by their radicalized parents, some of whom apparently joined the Islamic State terrorist group.
The kids landed in the capital of Russia's Chechen Republic, Grozny, with relatives and medics already awaiting them on the airfield.
According to Chechnya's head, Ramzan Kadyrov, all of the orphans were from the neighboring Republic of Dagestan.
The children's return became possible after their story was brought to light by RT as part of the "Bring them home" campaign, which calls on anyone with information about the children in the broadcaster's videos from Iraq to submit it at children@rttv.ru.
RT's footage was shared online by Kadyrov, who played an active part in the operation to bring the kids back. It also involved Russia's Foreign Ministry and politicians from Jordan and Iraq.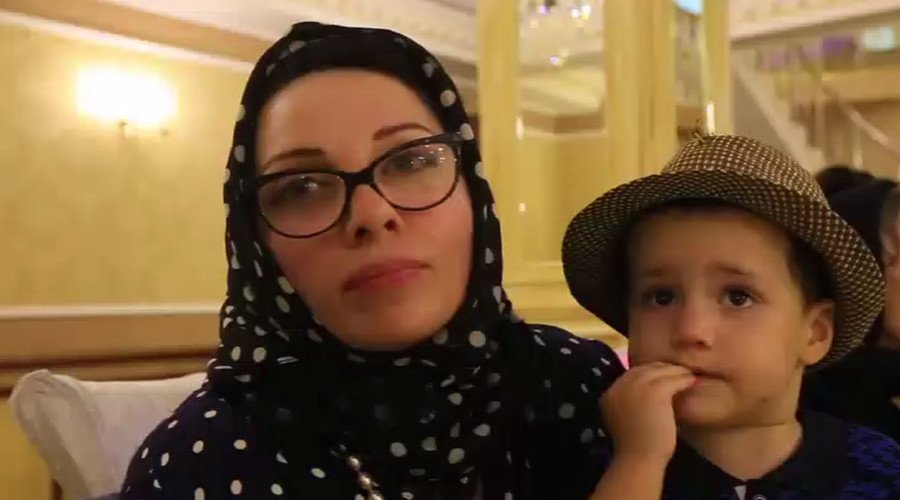 The heartbreaking videos that featured sisters Fatima and Khadija, an older girl named Mariam, and two boys Sultanmurad and Ali, allowed the relatives to identify the children, whose parents were killed or went missing in Iraq.
"I can't describe the joy we feel now. We thought we had lost them. They're all that's left of my sister and her family," the aunt of Sultanmurad said as she held the 3-year-old boy in her arms.
"We have another nephew there. We hope to find him as well," she added.
The grandfather of 3-year-old Fatima and 5-year-old Khadija said his life has taken on meaning again after the girls came back.
"For the last two years, I prayed to God to fall asleep and never wake up. And now I pray every day to wake up and live for them," he said.
Khadija earlier told RT that she won't tell her relatives in Russia that her mother was killed in a suspected drone strike, suggesting that it would hurt their feelings.
"I won't tell where mom is. I can say she's by the river. That's all. I can say mom didn't die, she's by the river," she said.
Khadija and Fatima were recognized by their 7-year-old friend, who used to play with them two and a half years ago and showed the footage to their relatives.
"We're so happy – we're speechless," Mariam's relatives told reporters at the dinner where the children were taken shortly after landing.
Mariam had problems even pronouncing her own name when she was discovered by RT in an Iraqi orphanage earlier in August.
The girl suffered immense psychological and physical trauma after her mother was killed by a sniper in front of her eyes and she herself was hit by shrapnel.
However, she was seen smiling for the first time in a long while as she was surrounded by the caring family in Grozny.
Earlier in August, a four-year-old Chechen boy, Bilal Tagirov, returned to Russia after living with his jihadist father, who was fighting for Islamic State (IS, formerly ISIS/ISIL) in Mosul.
Around 50 children of Russian citizens currently remain in various shelters, Mikhail Fedotov, the head of the Council for Civil Society and Human Rights, told RIA Novosti.
Their return home is a complicated affair due to the kids lacking passports, bureaucratic hurdles and the difficult security situation in Iraq.
You can share this story on social media: