At least 91 killed as 6.9 magnitude earthquake hits off Lombok island in Indonesia (VIDEO)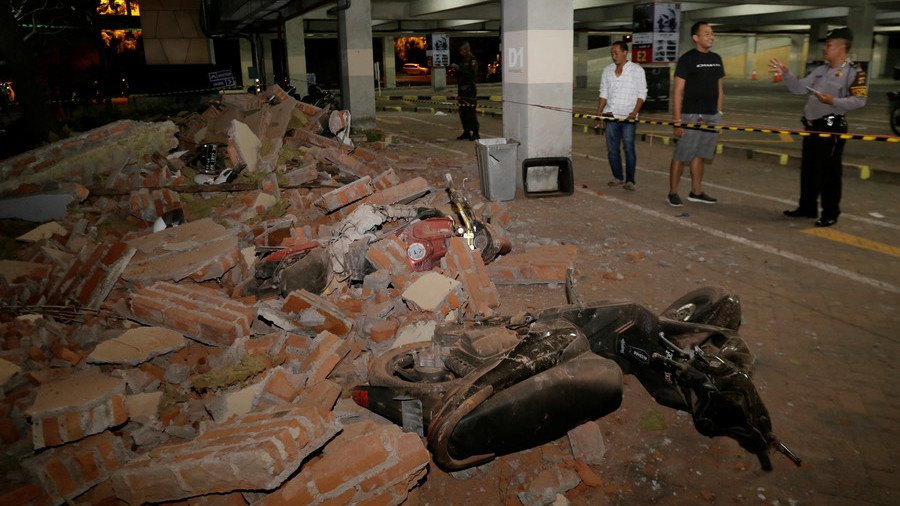 A magnitude 6.9 earthquake has hit along the coast of Indonesia's Lombok island killing almost a hundred people, authorities said. A tsunami warning was also issued, but called off a few hours later.
With fresh data coming from the areas badly damaged by the quake, the death toll has climbed to at least 91 people, the National Disaster Mitigation Agency reported on Monday. It said that the number is likely to rise as more information becomes available from the regions that were hit the hardest. Thousands of people have been evacuated, and hundreds are believed to be injured.
The magnitude, initially reported by the USGS as 7.0. was later revised to 6.9.
Recorded to the north of the tropical island destination, the earthquake happened around 6:46pm local time.
The Indonesian government's geological agency BMKG initially issued a tsunami warning, but lifted it several hours later. Seawater had entered two villages in Lombok at the level of 10 to 13 centimeters, Dwikorita Karnawati, head of the agency for meteorology, climatology and geophysics, told local television news.
Initial reports suggest the earthquake happened at a depth of 10.5 kilometers. People have been urged to follow safety procedures set in place by the emergency services.
Footage appearing to show the impact of aftershocks have already appeared online.
The quake was felt on the neighboring Bali island, according to reports on social media.
One visiting tourist to Bali, James, described the quake as "the craziest thing I've ever felt."
Footage provided by him to RT.com reveals how his resort swimming pool was rocked by the earthquake.
Sunday's earthquake is the second to hit the island in a week after a 6.4 magnitude quake left 14 people dead in the area last weekend.
Lombok has a population of just more than 3 million people. The island is also a popular backpacker destination.
You can share this story on social media: