6.4 magnitude earthquake leaves 14 dead at popular Indonesian island of Lombok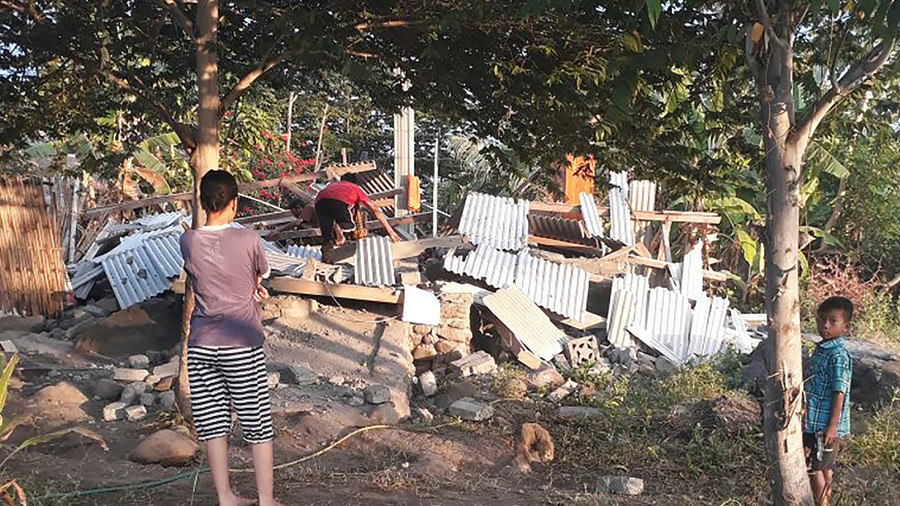 The Indonesian tourist destination island of Lombok has experienced a 6.4 magnitude earthquake, the US Geological Survey has reported. The disaster has left at least fourteen dead and inflicted damage to houses on the island.
The shallow earthquake, whose epicenter was registered some 128.75 km northeast of the island's main city of Mataram, caused significant damage to houses in Sambelia, Eastern Lombok, the National Agency for Disaster Countermeasure (BNPB), said in a tweet.
Following the initial assessment of damage, the country's disaster mitigation agency announced that at least 14 people have died in the quake and over 160 were injured. Although less popular than neighboring Bali, Lombok is similar in size and population density.
Besides causing damage to dwelling structures, the quake also impacted Mount Rinjani National Park where a landslide reportedly occurred on the mountain.
Awakened in surprise by the jolts, Jean-Paul Volckaert, who is staying at the Puncak Hotel in Tenggara, recalled how people "jumped out of our beds to avoid anything falling on our heads."
"We were very surprised, as the water in the pools was swaying like a wild sea. There were waves in the pools but only for 20 to 30 seconds," he told Reuters via telephone.
If you like this story, share it with a friend!