'Oh my god': Truck debris smashes through windscreen narrowly missing driver & child (VIDEO)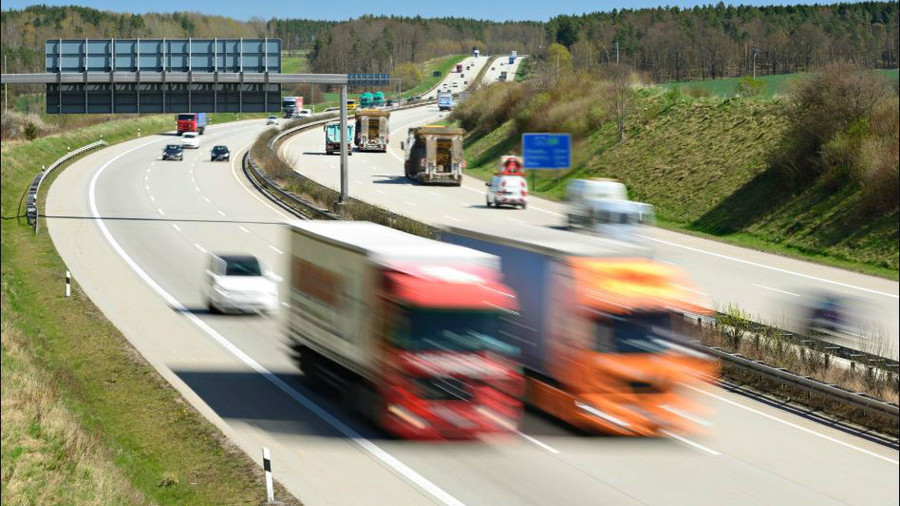 An Australian woman has released terrifying dashcam footage of the moment metal debris fell from the underside of a log truck and crashed into her windscreen as she was travelling with her baby on a busy highway.
Kahla Euphemia Butler was driving on Melbourne's Monash freeway last Thursday when disaster almost struck in the form of a metal rod.
Video footage of the terrifying incident shows how the debris fell from the underside of a large truck transporting logged trees, before it flicked up off the tarmac directly into the passenger side of the windscreen.
Butler can be heard screaming in dashcam footage of the collision, after the tumbling metal debris threw shattered glass into the vehicle. The mother told Australia's Nine News that she was in total shock and stopped in the middle of the motorway. She initially feared her baby daughter Zoe might have been hurt.
Glass was found in Zoe's car seat but the pair both miraculously escaped unscathed. Butler posted the dramatic video on Facebook last Friday in an effort to track down the driver of the truck, who appeared to be unaware of the smash.
The driver has since come forward and said he had no idea his vehicle had shed part of its suspension on the busy road.
"Fantastic news the driver contacted me and police and I'm in the process of [talking to] insurance [company] now," Butler told followers on social media Saturday.
"Turns out it was his suspension giving way and not debris flicking up! He had no idea it all happened and would have stopped otherwise," she added.
Subscribe to RT newsletter to get stories the mainstream media won't tell you.
You can share this story on social media: