Cell phone blaze aboard Ryanair flight sparks panicked evacuation (VIDEO)
Published time: 2 Aug, 2018 10:40
Edited time: 3 Aug, 2018 08:05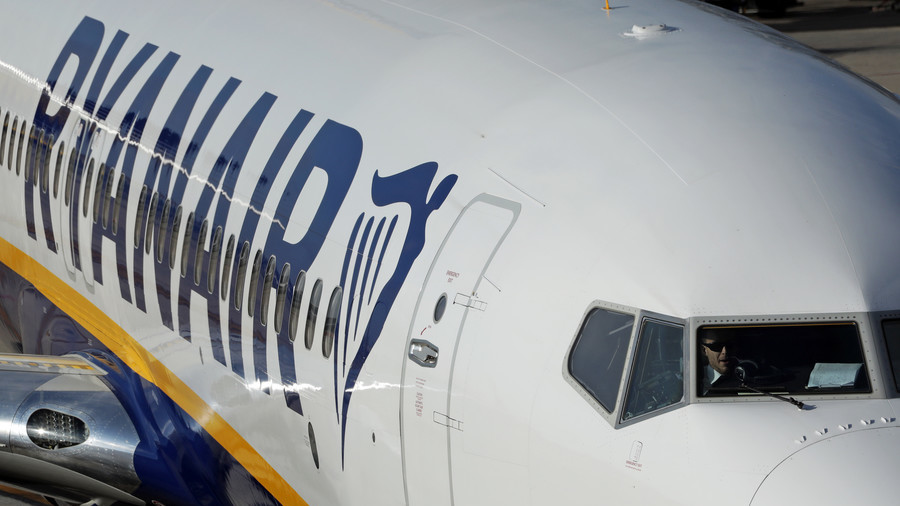 An Ibiza-bound Ryanair flight was evacuated after a cell phone burst into flames inside the cabin, triggering panic onboard. Passengers were forced to exit the plane before it departed Barcelona's El Prat airport on Tuesday.
A passenger had been charging their phone with a battery pack when it caught fire, Aviation24 reports. The cell phone burned a hole in the seat before it was knocked onto the floor.
Video filmed by passenger Anthony Carrio shows the phone engulfed in flames as alarmed passengers nearby shout with concern. He said he put out the fire with water.
Ryanair cabin crew directed the panicked passengers to exit the plane using the inflatable slides. Video taken on the runway shows some people fell off the slide in their hurry to escape, and there were a few pile-ups of passengers as they clamored to get out of the aircraft. The airline has been criticized for failing to control the number of passengers on the slide at one time, and for allowing people to take their luggage with them.
READ MORE: Family flee fiery scooter as charging device explodes in their home (VIDEO)
"Passengers on a Barcelona-Ibiza flight on the ground in Barcelona experienced an emergency evacuation caused by a mobile phone catching fire as it was being charged by a battery pack," Ryanair said in a statement. "All passengers were safely evacuated back to the terminal and cabin crew dealt with the mobile phone."
Think your friends would be interested? Share this story!