Internet in awe of Vietnam's gobsmacking 'handheld' bridge (PHOTOS, VIDEOS)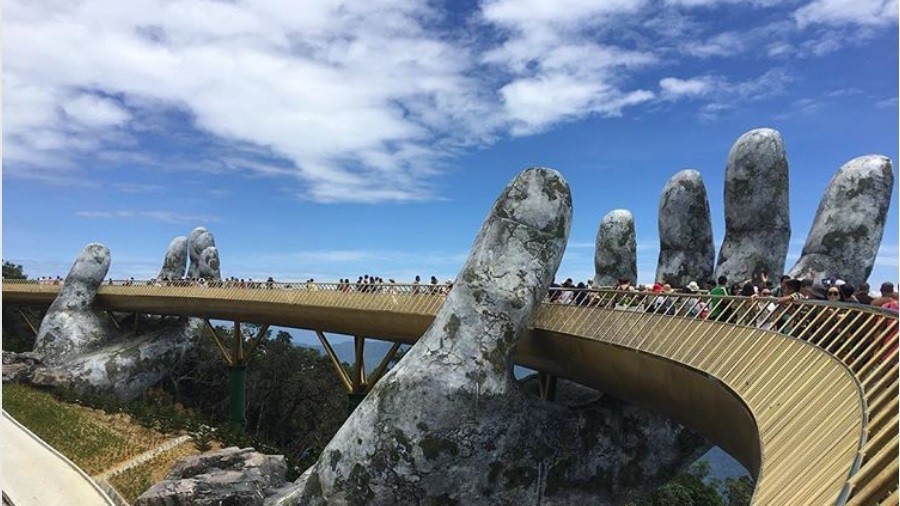 An incredible new "handheld" bridge in Vietnam has become the country's newest tourist attraction – and the internet's latest obsession – after it opened earlier this summer.
Tourists and locals alike have been flocking to Cau Vang (meaning 'gold bridge') since it opened near Na Dang, central Vietnam, in June to take a selfie with the incredible structure which appears to be held up by two giant stone hands.
READ MORE: Crocodile bites trainer's arm during Thailand circus show (VIDEO)
The 150 meter-long (490ft) bridge is suspended over the scenic Ba Na hills some 1,400 meters (4,600ft) above sea level, resting just above the clouds, creating something of a heavenly experience.
The bridge is the latest investment in Vietnam's $2 billion regeneration project aimed at turning the country into a must-see for tourists, many of whom already flock to Da Nang in their millions.
READ MORE: Coca-Cola blames steel & aluminum tariffs for planned price hike
Cau Vang took a year to erect, and is surrounded by a French Village replica (a nod to 20th century French colonizers who vacationed in the area) and a 5.8km-long cable car which was once the longest and highest in the world.
The designer of the bridge Vu Viet Anh said he is already in the process of working on a connecting bridge that will resemble a strand of God's hair.
Like this story? Share it with a friend!