Duterte crushes $5mn of luxury cars in corruption crackdown (PHOTOS, VIDEO)
Published time: 1 Aug, 2018 15:29
Edited time: 2 Aug, 2018 12:57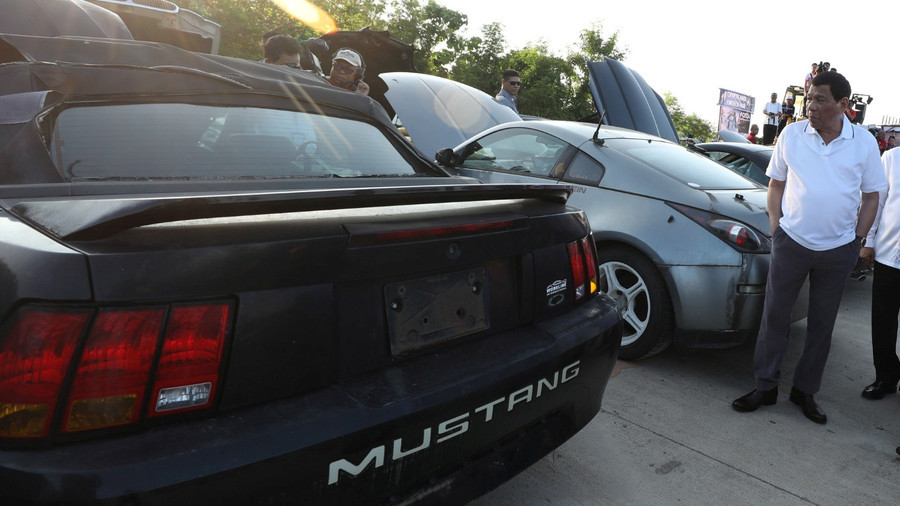 Philippines President Rodrigo Duterte has overseen the destruction of more than $5 million worth of luxury cars in a very public crackdown on corruption in the country.
READ MORE: Duterte apologized to God for 'blasphemous remarks' says lawyer
Some 68 Ferraris, Lamborghinis, Mercedes and Harley Davidson motorcycles were crushed under the tracks of a bulldozer as Duterte continued his policy of destroying vehicles smuggled into the Philippines.
READ MORE: Drug war 'walk of shame' mayor shot dead by sniper during Philippines flag ceremony
The operation took place in Cagayan Province, the northernmost area of Luzon Island, and was monitored by Duterte, along with leader of the Cagayan Economic Zone Authority Raul Lambino, and the province's governor Manuel Mamba. The cars are reportedly part of the second batch to be officially destroyed in recent times.
In a speech prior to crushing the vehicles, Duterte said: "Breaking up the contraband vehicles is the proof that these operations will not be allowed here in Cagayan."
Think your friends would be interested? Share this story!