'Harassment is everyday': Wolf-whistling thug punches young woman outside Paris cafe (VIDEO)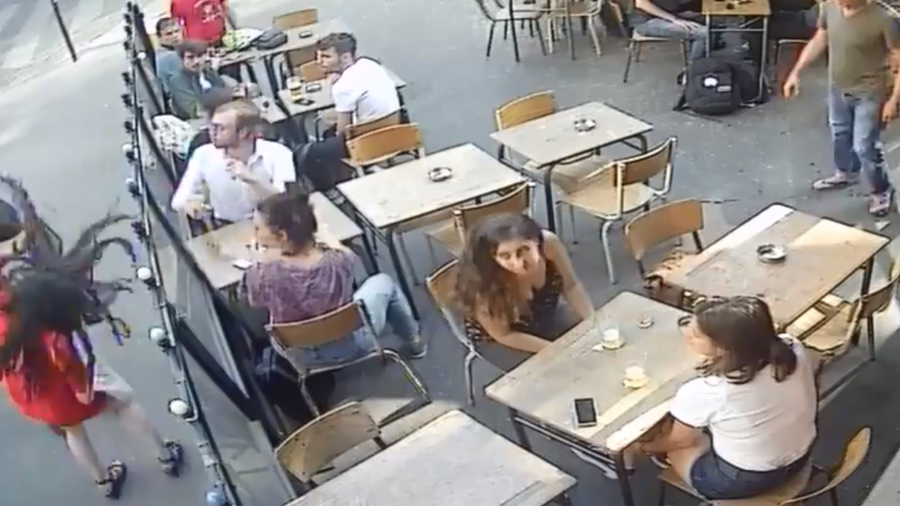 A young Paris resident has spoken out against sexual harassment after she was filmed being viciously assaulted by a man whom she told to "shut up" after he wolf-whistled at her.
Marie Laguerre has released CCTV footage of the moment she was hit in the face by a stranger as she walked home in the 19th arrondissement of Paris. She said the incident perfectly illustrates the dangers women face every day.
"It is time for this kind of behavior to end," Laguerre said. "Harassment is every day."
READ MORE: Police search French presidential palace as scandal around Macron's violent aide unfolds
Laguerre had a chance encounter with her attacker on Boulevard de la Villette. She said he cat-called at her, whistled and made "dirty noises." When the 22-year-old shot back at the man his behavior turned violent.
"It did not please this man. He came back and followed me to the street. He hit me… in front of dozens of witnesses," she said. She praised bystanders for comforting her after the vicious incident: "After the attack the witnesses were a great support, thank you".
The attack was caught on a security camera of a local cafe and shows how the man first threw an ashtray from the cafe at Laguerre then stopped, turned around and returned to confront her before striking the young woman in the face outside the packed restaurant terrace.
READ MORE: 'More wholesome': Mavericks' cheerleaders to wear 'less revealing' outfits after harassment scandals
The incident has sparked outrage in France. A video of the assault has been viewed more than 1 million times on Facebook, with many people posting messages of support for Laguerre. "You have all my support. It's intolerable," one person wrote.
"This kind of sh*t really pisses me off as a respectful man," a male commenter added. "It's time a lot more men stood up against this kind of despicable behavior."
Like this story? Share it with a friend!