Police search French presidential palace as scandal around Macron's violent aide unfolds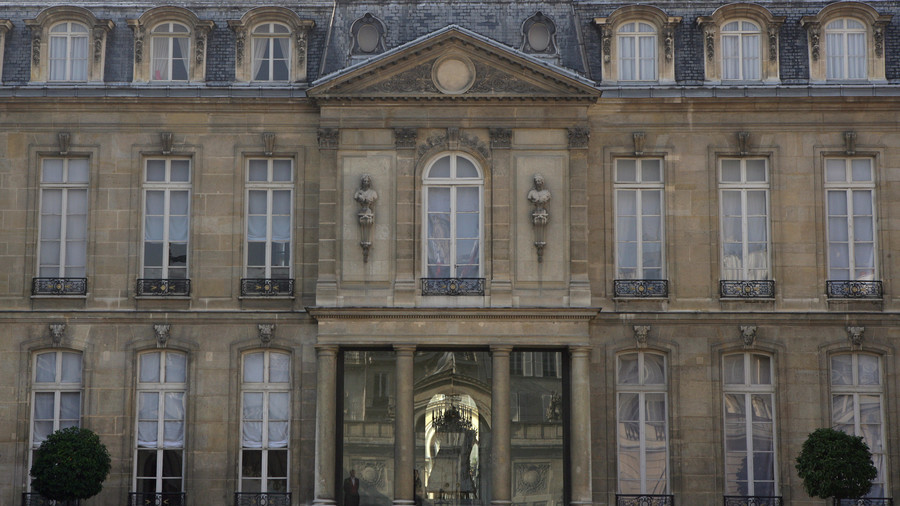 French police have searched the office of Alexandre Benalla at the Elysee Palace, local media report. Benalla, a senior aide to France's president, was filmed beating protesters during a May Day rally, sparking full-blown scandal.
The office, which was placed on lockdown since Benalla's detention, was searched late on Wednesday. Benalla has reportedly been present at his office during the search, at the court's request. On Saturday, the investigators searched through the private residence of the rogue aide.
The rapidly unfolding scandal erupted last week when it was revealed that Benalla, Macron's assistant chief of staff and bodyguard, assaulted seemingly peaceful demonstrators during the May 1st protests in Paris. The rogue aide was filmed violently beating a male protester and dragging a woman, all while wearing a police-issue riot helmet. The actual riot police on duty at the demonstration did not try in any way to stop Benalla's wrath, according to the explosive footage.
The French presidency has, seemingly, tried to sweep the incident under the carpet; immediately after it, Benalla was slapped with only a two-week suspension without pay. He was later filmed overseeing the security of the French football team's bus during their cruise through the streets of Paris upon returning from the 2018 World Cup.
As the incident went public, the administration was forced to finally sack Benalla. The now-former rogue aide was indicted on Saturday on charges including violence at a public gathering, attempt to destroy video evidence and impersonation of a police officer.
France's President Emmanuel Macron has been silent on the Benalla affair, though comments he made on Tuesday at a closed-door event for his own party's lawmakers promptly went public.
"If they are looking for the one responsible, the only one responsible is me and me alone," Macron told the lawmakers. "If they want the one responsible, he's in front of you. Let them come and get me. I answer to the French people."
Apart from 'taking responsibility' before his fellow lawmakers, Macron lashed out at media stating that it "no longer seeks truth." While he stated that he "condemned" the incident, the published footage of Benalla lacked "context" and he desired to "see the scene before, the scene after."
His remarks, however, caused a new wave of criticism, with the head of the conservative party in the upper house of parliament, Bruno Retailleau, equating such statement to flipping off virtually everyone in France.
"It's sort of giving the finger, what he did [that] night, a finger to the opposition, journalists, the press, and even the French people when he says 'They can come and get me'," Retailleau told France 2 TV channel. "He shouldn't be speaking to his own [colleagues] first."
Like this story? Share it with a friend!
You can share this story on social media: