Turkey wants to join BRICS because it's disappointed in NATO and EU – analysts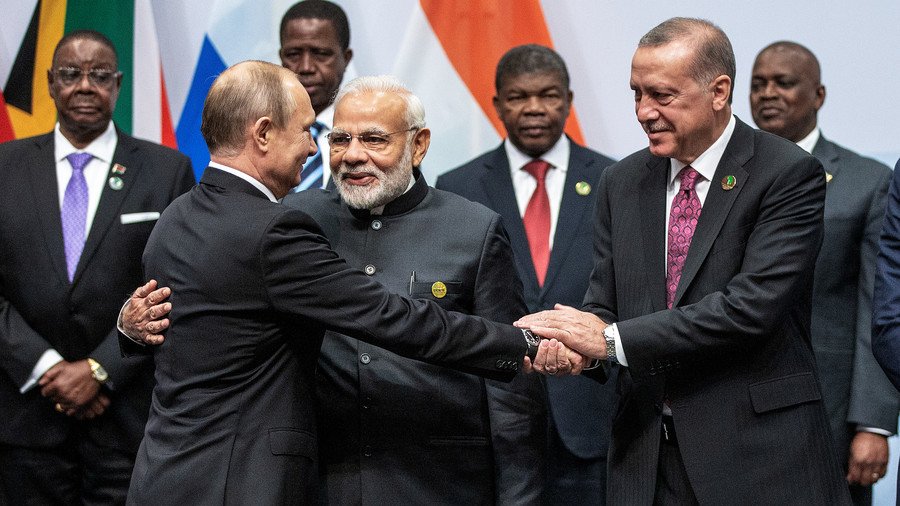 By floating the idea of Turkey joining BRICS, Turkish President Recep Tayyip Erdogan seeks to diversify Ankara's foreign policy, with its EU membership bid long stalled and relations with the US on the rocks, analysts told RT.
The Turkish President has suggested that the leaders of the five-member BRICS bloc (Brazil, Russia, India, China and South Africa) should add "T" to the acronym. Erdogan was invited to the group's latest forum and told Hurriyet Daily News on its sidelines that current members welcomed the idea of Turkey's accession.
Evgeniy Bakhrevskiy, deputy director of the Russian Research Institute of Cultural and Natural Heritage, told RT that this apparent pivot by Erdogan is rooted in Turkey's mounting frustration with the West.
Erdogan "believes there is a need to diversify Turkey's foreign policy, because he is seriously disappointed with western structures, with the EU; he has rather strained relations with the US," Bakhrevskiy noted.
Stevan Gajic, researcher at the Institute for European Studies in Belgrade, argued that it hasn't been geopolitical considerations, but "something very personal" that has prompted Erdogan to strive for new allegiances.
Gajic believes that the foiled military coup attempt in 2016 and Syrian President Bashar Assad winning in Syria with Russia's help, are two main factors that made Erdogan's outlook change.
It also comes at a moment when Turkey's long-standing dream of joining the EU is in limbo, with the accession process effectively frozen. Although the EU is Turkey's top trading partner, Turkey is still stuck in the bloc's "waiting room," a situation that in itself is an insult to Ankara, Bakhrevskiy pointed out.
Ankara's relations with Washington are also going through a rough patch, with "anti-American sentiment very strong in almost all layers of Turkish society," Bakhrevskiy said, because of America's support for Kurdish militias fighting Islamic State (IS, formerly ISIS). Turkey views the backbone of the US-backed Syrian Democratic Forces (SDF), the People's Protection Units (PYD), as an extension of the Kurdistan Workers' Party (PKK), recognized as terrorists by Turkey.
By refusing to cut its support for the Kurdish-led forces, the US is seen by many in Turkey as "directly threatening" their country, Bakhrevskiy said. Erdogan doesn't hesitate to capitalize on the sentiment.
"Anti-Americanism is popular, he is a politician, he will do what people like."
At the same time, Turkey's relations with Russia, having hit their lowest point when Turkey downed a Russian attack jet above Syria in November 2015, have recovered swiftly and are gaining momentum. The speed of this rapprochement is evidence that "two parties really need each other," according to Bakhrevskiy.
"The main change from 2015 is that then Turkey and Russia were on the brink of war," Gajic noted. Russia expressed its support for Erdogan following the 2016 coup attempt, which the Turkish authorities blamed on the US-based exiled cleric Fethullah Gülen and his associates in Turkey. The two Turkish pilots accused of downing the Russian plane were later arrested in a post-coup crackdown.
Supposing the pilots were indeed part of Gulen's network, "that was actually a plot to make a conflict between Russia and Turkey," Gajic said.
While Turkey doesn't look likely to ditch NATO for good just yet, Bakhrevskiy points out that BRICS is "a very democratic bloc" which does not require any special "sacrifices" like leaving the EU or NATO in order to join.
Gajic, meanwhile, believes Ankara could leverage the threat of leaving NATO as a "big bargaining chip." Its potential departure would "deal a big blow" to an alliance already shaken by US President Donald Trump's constant demands that European members pay more for the bloc's costly maintenance.
This ambiguous position "is best for Turkey," Gajic believes, as both Russia and the US are eventually interested in winning Ankara over.
Subscribe to RT newsletter to get stories the mainstream media won't tell you.
You can share this story on social media: