Talk Turkey: Erdogan suggests adding 'T' to BRICS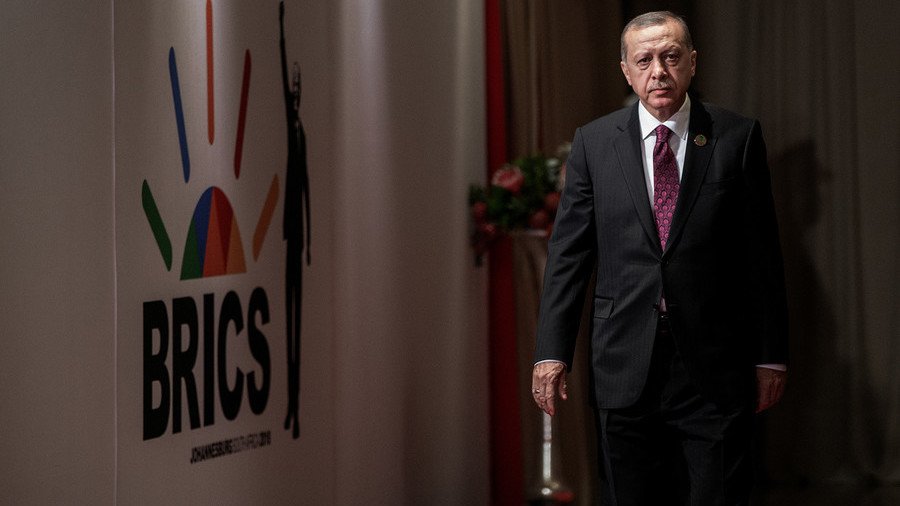 Turkish President Recep Tayyip Erdogan has called on leaders of BRICS nations (Brazil, Russia, India, China and South Africa) to allow Turkey's accession to the group.
"We are in the G20 with five of those countries. I wish they would take the necessary steps to let us in and we could take our place in BRICS," the Turkish president told the Hurriyet Daily News on the sidelines of the group's forum in the South African city of Johannesburg. "If you take us in the name of the platform would become BRICST."
According to Erdogan, the suggestion was warmly welcomed by the member states, especially by China. He reportedly said that the BRICS members had been considering adding other nations in the group.
"Especially China says that it stands in favor of enlargement. I have seen that they are considering involving other countries in this platform. They are not opposed to it," Erdogan said, as quoted by the media.
Turkey was invited to the 10th annual meeting of the group of emerging economies, which took place on July 25-27, as the term chair of the Organization of Islamic Cooperation. The Turkish president attended the summit together with the country's foreign minister, finance and treasury minister, defense minister, commerce minister, and the ruling Justice and Development Party.
The multinational grouping was founded in 2006 during the St. Petersburg International Economic Forum. Initially, it was formed by Brazil, Russia, India and China, with South Africa joining the group in 2010. The current participants represent more than 40 percent of the world's population and 25 percent of global GDP.
For more stories on economy & finance visit RT's business section
You can share this story on social media: