Terror a possible motive in car-ramming of foreign cyclists in Tajikistan – shocking VIDEO released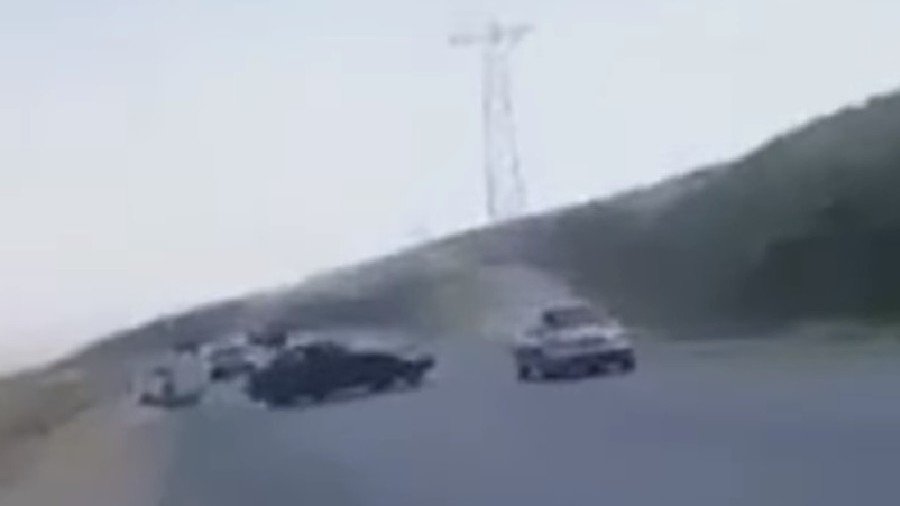 A terrorist attack is being considered as a possible motive behind the deadly ramming of foreign cyclists in Tajikistan, police have said. A gruesome video of Sunday's incident appears to confirm it was intentional.
"We are looking into all versions – accident, robbery... including a terrorist act," Tajik Interior Minister Ramazon Rakhimzoda said during a briefing on the investigation of the incident, in which two Americans, a Dutch man and a Swiss citizen were killed.
"Although the investigation into the incident is still going on, there is proof that it was a deliberate attack," the Information Officer at US Embassy in Dushanbe, Jeff Ridenour, told Asia-Plus.
"We condemn this severe act and we realize that the assailants do not represent the hospitable people of Tajikistan," Ridenour added.
A video from the scene of the ramming, a rural area 90 kilometers southeast of Dushanbe, released by Radio Liberty, showed a black sedan making a U-turn seemingly after already hitting a group of cyclists and running them over once again.
The footage stops there but, according to reports, the driver and his passengers then got out of the car and assaulted the tourists with fire arms and knives, killing four of them and injuring three others.
Tajik law enforcers swiftly organized a large-scale manhunt and soon discovered a Daewoo Leganza vehicle, which they believed was involved in the ramming, in the nearby village of Torbulok.
A gunfight broke out as the suspects resisted arrest. The exchange of fire saw one of the men killed and one detained.
READ MORE: Two Americans among four tourists killed in Tajikistan car-ramming incidents
The three other perpetrators, including the driver of the car, managed to escape but were tracked down by security forces on Monday and "eliminated," the Interior Ministry said. Those involved in the ramming were all young males, aged between 19 and 21 years.
The Islamic State (IS, formerly ISIS/ISIL) terrorist organization has claimed responsibility for the attack on tourists in Tajikistan, SITE intelligence group reported on Monday. IS, however, routinely claims responsibility for high-profile attacks.
Tajikistan has been engulfed in a civil war against Islamist radicals between 1992 and 1997, which according to different estimates left between 20,000 and 60,000 dead. Last year, Asia-Plus reported that over a thousand Tajik citizens have been fighting in the ranks of Islamic State.
Subscribe to RT newsletter to get stories the mainstream media won't tell you.
You can share this story on social media: