3 daughters 'snapped' & stabbed father to death after years of alleged abuse in Moscow horror drama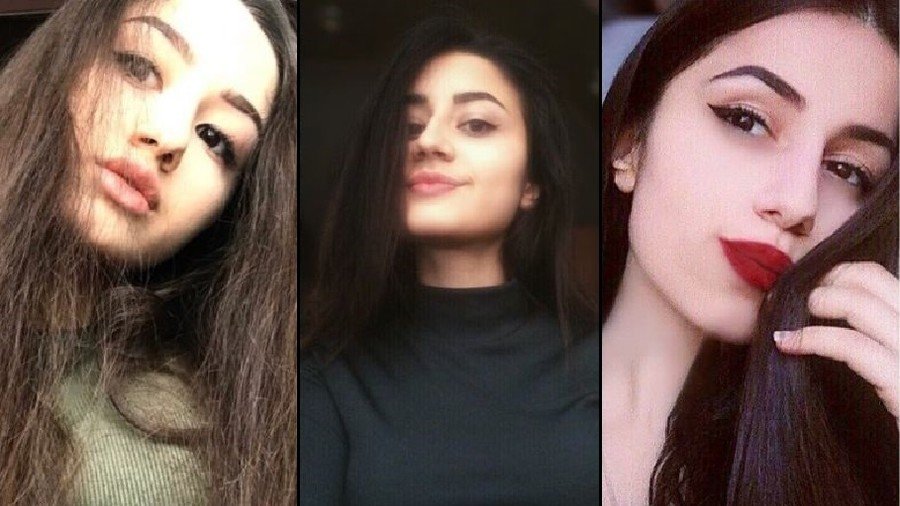 His body lacerated with dozens of stab wounds, Mikhail Khachaturian stumbled from his Moscow flat and collapsed dead by the elevator. Disturbingly, for his teenage daughters, his death came as a relief after years of abuse.
Khachaturian's daughters – Kristina, 19, Angelina, 18, and Maria, 17 – have been detained and charged with stabbing their father to death on Friday, Russian law enforcement has confirmed.
While Mikhail Khachaturian strove to present himself as a decent, religious type, neighbors called him a controlling, "abusive""mafia boss" and his daughters readily admitted to the murder, claiming that they'd violently snapped after years of physical, mental and sexual abuse.
"We hated him and we wanted just one thing to happen – either that he disappeared or that we never knew him," Kristina told the police. "We wanted him just to go away and never come back."
Friends and neighbors claimed that Khachaturian was a tyrannical father and husband, who had developed a heroin habit and reportedly had connections with the criminal underworld. Khachaturian's abusive behavior drove away his wife, the girls' mother. Khachaturian's son, in his 20s, also lives away from home.
Left at home with the three girls, the 57-year-old fitted the family apartment with cameras to snoop on the girls while he was away, often forbade them from going to school, and subjected them to beatings if they dared to defy him.
"He was always beating them," said a family friend. "Once he took them to a forest and threatened to kill them. The mother ran away from him, he banned all communication with her."
Another friend told Telegram news channel Mash that Khachaturian would beat the girls savagely, but would avoid leaving visible bruises, lest anyone find out the extent of his abuse. However, his punishments were often more creatively sadistic than simple beatings.
Another family friend alleges that Khachaturian flew into a rage when he found a dog hair on the carpet. He summoned one of his daughters to the room, made her brush the dog and eat its hair as punishment.
By far the most severe allegations against Khachaturian are sexual. According to 112, another local Telegram news channel, the father raped one of his daughters, driving the teenager to attempt suicide.
"After the sexual attack, she took a lot of pills but was rescued by doctors. The father persuaded the medics that it was not a suicide attempt but just a mistake," 112 reported. A family friend corroborated the story, saying she knew at least one girl had been "sexually abused," while another said that the depraved father was "constantly seducing" his daughters.
The girls' estranged brother would sometimes visit. After he stopped by with a male friend, Khachaturian became convinced that the girls had sex with the male visitor.
"So you all did it together with him, all three of you?" he raged at the girls. "All of you are whores, and you will die as whores," he thundered, in a rant recorded on audio tape.
"You will suck all the time if you don't go away," he told them. "And if you go away I will find you, you whores...I will f*ck you and you will regret it. You won't have time to regret."
"I will beat you...I will kill you. Go away, go away, don't push me to sin," he continued.
Accounts of Khachaturian's death vary. One Moscow news agency dramatically describes how the girls planned their father's murder in advance, with 17-year-old Maria stabbing him 35 times in the neck and body, 18-year-old Angelina raining hammer blows onto his head, and 19-year-old Kristina emptying a can of pepper spray into his face before driving a knife through his heart.
According to another version, Khachaturian returned home under the influence of drugs, and came at one of the girls with a knife, wounding her. The other girls overpowered their father, turning the knife on him and stabbing him to death.
While the blow-by-blow details of the fateful night have yet to be established, the girls have pleaded guilty to their father's death.
"During the interrogation, the girls pleaded guilty and explained that they had developed hostile relations with their father because of moral suffering he had been causing them for a long time," a spokesperson for the Investigative Committee of Russia said on Monday. Charged with murder, the girls now face a maximum sentence of between 10 and 15 years imprisonment.
Khachaturian presented himself in public as a devoted religious believer and allegedly forced his daughters to hang religious icons in the house. When police searched his Audi Q7 SUV, they found evidence of a different lifestyle. Two kilograms of heroin, two rifles, three handguns and a signal flare gun were all reportedly recovered from the man's vehicle.
"I don't know what happened," an unnamed relative told REN TV. "I don't know who to believe."
The gruesome allegations have already raised a moral debate about the murder.
"When all your life is a long nightmare, full of constant traumas, physical and mental," said a family friend, "Would you have done any different if you were in their shoes?"
Think your friends would be interested? Share this story!
You can share this story on social media: