Imran Khan declares victory in Pakistan's general election
Published time: 26 Jul, 2018 12:53
Edited time: 28 Aug, 2018 11:13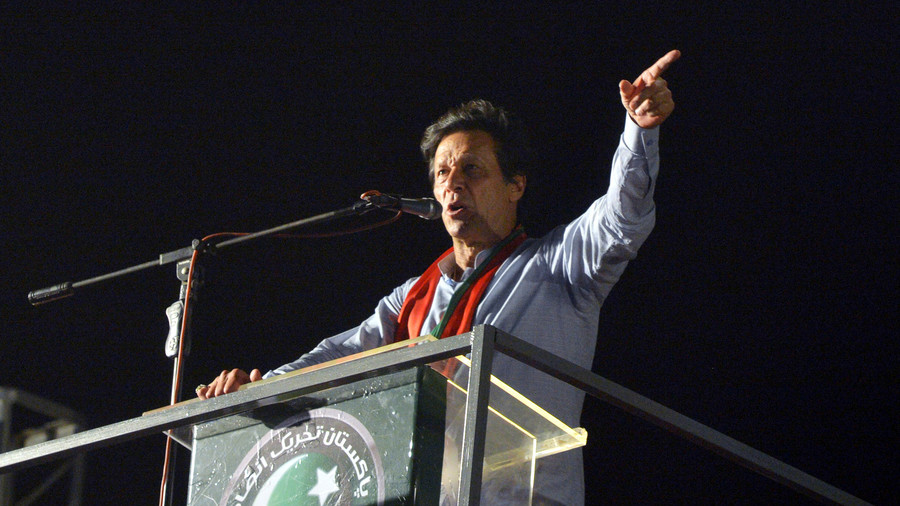 Cricket player-turned-politician Imran Khan has declared victory in Pakistan's election, seeing off the party of former PM Nawaz Sharif, who was jailed for corruption. Voting was marred by violence and allegations of poll-rigging.
With about half the votes counted from Wednesday's elections, Khan's Pakistan Tehreek-i-Insaf (PTI) – Justice Movement – has a solid lead, according to the official preliminary results. The elections were marred by a gruesome suicide bombing. Some 371,000 soldiers have been deployed at polling stations across the country, nearly five times as many as during last general election in 2013.
Khan addressed the nation from his home in Islamabad, vowing to investigate all complaints of rigged polls made by his opponents – the Pakistan Muslim League, a center-right conservative party, sympathetic to the US. Supporters of its de facto leader Sharif, who has bad blood with the military, claimed the army tipped the scales in Khan's favor.
"It is a sheer rigging. The way the people's mandate has blatantly been insulted, it is intolerable," Shehbaz Sharif, PML-N president and brother of Nawaz, claimed as the counting continued.
Having run on an anti-corruption ticket, Khan pledged to "fix" the governing system of Pakistan and make the country what its founder, Muhammad Ali Jinnah, actually dreamed it would become. The leader of the Pakistan Movement for Justice also stated that he will be "embarrassed" to live in the lavish PM palace when over half of Pakistanis live below the poverty line. Khan promised to turn the palace into an educational or public institution instead.
"I started this struggle 22 years ago and thankfully today I have been given a chance to fulfill what I dreamt for the country," Khan stated. "We will run Pakistan like it's never been run before."
On top of domestic issues, Khan also pledged to address pressing international concerns, declaring that Pakistan and India should resume talks in a bid to resolve the years-long Kashmir crisis.
He also promised to strengthen relations with China, continuing to work on the China-Pakistan Economic Corridor. Aside from economic cooperation, Pakistan has much to learn from Beijing in other fields, Khan insisted, mentioning China's experience in poverty alleviation and curbing corruption.
Back in April, Khan gave an interview to RT's Sophie Shevardnadze, criticizing the US approach on the region, and Afghanistan in particular. Islamabad, formerly a close ally of Washington, has endured "heavy punishment" for participation in the US-led war on the Taliban and Al-Qaeda militants in the neighboring country, for a very little benefit, he said.
"There is a problem, unfortunately, that the American policy of using a one-dimensional military solution to problems in Afghanistan has led not only to the longest war, but it has caused immense problems to Pakistan," Khan told RT at the time.
Like this story? Share it with a friend!