Dozens killed in Pakistan suicide bombing as election day marred by violence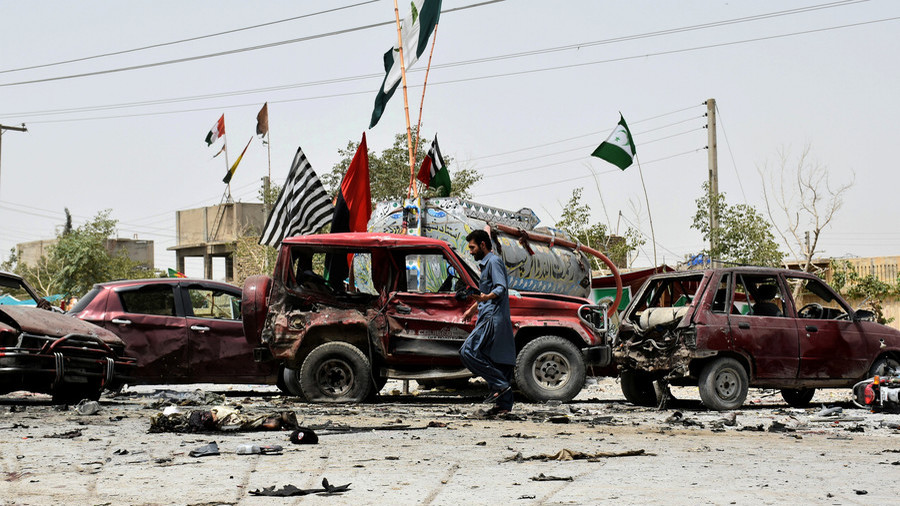 A suicide bomber has killed at least 31 people and wounded many more at a polling station in the Pakistani city of Quetta, rounding off a campaign season stained by indiscriminate violence.
As voters crowded the polling station in the National Assembly elections, the bomber blew himself up, killing at least 31 people and wounding at least 35. At least one child was among the dead. Radical Islamic terrorist group Islamic State (IS, formerly ISIS) claimed responsibility for the deadly blast, according to the group's propaganda outlet, the Amaq News Agency.
In addition to the bombing in Quetta, polling across the country opened to violence. One person was killed in a grenade attack in Khuzdar, Balochistan province, and another in a shooting between rival politicians in Swabi, Khyber Pakhtunkhwa province. Violent clashes were also reported in at least four other towns and cities across the country.
Around 371,000 Soldiers have been deployed at polling stations across the country, nearly five times as many as were deployed during Pakistan's last general election, in 2013. The 2013 election was also marred by violence, with 150 people killed in the six weeks leading up to polling day.
The main rival parties at the elections are the Pakistan Muslim League, a center-right conservative party, sympathetic to the US and spearheaded by former Prime Minister Nawaz Sharif, and the Pakistan Movement for Justice,a populist centrist party led by former cricketer Imran Khan.
Less than two weeks before polling day, Sharif returned to Pakistan from the UK to face a ten year sentence for corruption that made him ineligible from participating in politics. His brother Shabaz is formally leading the party. Sharif accused his main rival Khan of using the military to coerce voters into voting for his party, and has been a vocal critic of the military, which he claims runs a "state above a state" in Pakistan.
As well as expressing anti-US views, Khan has promised to build a 'model Islamic welfare state,' create 10 million new jobs and stamp out corruption, despite being accused by opponents of engaging in corrupt activity himself.
Pakistan has swung between military and civilian rule throughout its history, and the military and courts have been accused of running a targeted crackdown on Khan's opponents this time around.
In addition, independent media outlets have reported wanted terrorists running for political office, threats from the military and women being denied the right to vote in the country's lawless northwest. The Human Rights Commission of Pakistan has said that there are "ample grounds" to doubt the legitimacy of the election, a view echoed by Sharif, who described his arrest as motivated by "blind revenge" and said upon his return to Pakistan "what credibility is now left of the elections? Who will believe the results?"
Speaking to RT, local journalist Javed Rana said that Imran Khan's party is likely to win, but will probably have to form a coalition with some smaller parties.
Results are expected by Thursday morning and, at the time of writing, Khan's Pakistan Movement for Justice party is in the lead with 84 National Assembly seats out of 272, followed by Sharif's Pakistan Muslim League with 52. The left-wing Pakistan People's Party is in third with 29 seats, and 65 seats divided between a mishmash of smaller and local parties from across the political spectrum.
Like this story? Share it with a friend!
You can share this story on social media: