Car mows down crosses erected in support of jailed, exiled Catalan independence leaders (VIDEO)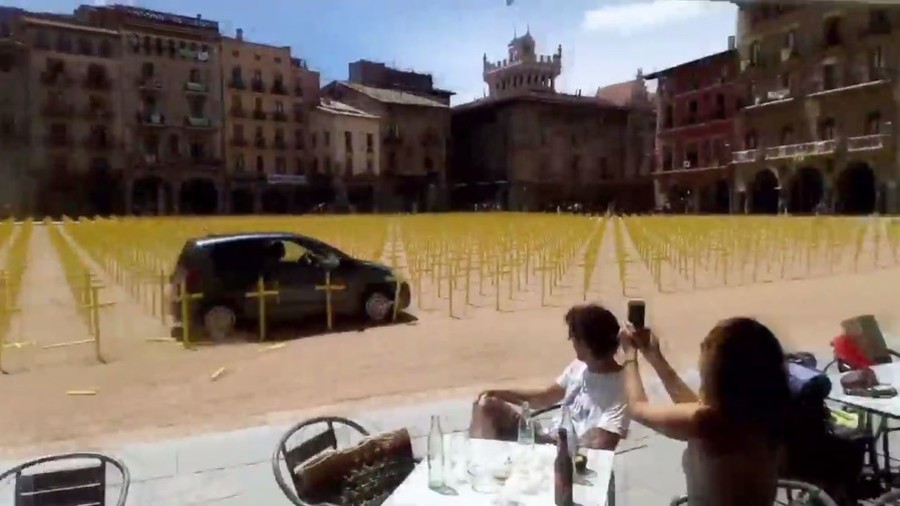 A car plowing through a public square in Spain and running down hundreds of yellow crosses at high speed, has been caught on video. The crosses were set up in solidarity with jailed and exiled Catalan pro-independence leaders.
The vehicle drove into Plaça de Vila in the Spanish town of Vic on Sunday, obliterating some of the 2,500 yellow crosses that had been placed in the main square the day before. Local media report that the installation was organized by a group known as 'Som República' or 'We are the Republic'. It was planned to be taken down late on Sunday.
Shocked onlookers caught the Citroën C4's savage destruction on camera. The video has since gone viral, viewed nearly 100,000 times. The driver has now been detained by police and will face court. Mayor of Vic Anna Erra told listeners on local radio that "it seems like the driver has some sort of psychological problem; we do not know if he is affiliated with any political group."
Incident deplorable en contra de la seguretat de les persones i de la llibertat d'expressió. Estem buscant el causant d'aquesta actitud vergonyosa i preocupant. https://t.co/45JDq1U0dY

— Anna Erra (@Anna_Erra) July 22, 2018
The Vic council has confirmed to Catalan News that it will press charges against the man responsible, likely for hate crime offenses and dangerous driving. Catalan president Quim Torra called the incident "very serious" and pledged "zero tolerance" against violent people.
Tot el suport @AlcaldessaVic a la gent de Vic. Un fet gravíssim. Tolerància zero contra els violents. Seguiu defensant la llibertat! Anirem fins el final en l'exigència de responsabilitats i que que es prenguin totes les mesures necessàries contra l'agressor. https://t.co/3FfJ6Arz36

— Quim Torra i Pla (@QuimTorraiPla) July 22, 2018
The destruction of the yellow crosses in Vic is not the first time that these pro-independence symbols sparked violence. In May, pro and anti-independence supporters confronted each on the beaches of Canet de Mar, Llafranc and Calella de Palafrugell over the crosses that had been driven into the sand.
One man was hit in the neck with a cross, a woman received a blow to the head, and a councillor for Catalonian far-left CUP party said he was held down and kicked.
READ MORE:Germany wants to extradite Catalonia's independence leader Carles Puigdemont
Last week Spain's supreme court dropped its international arrest warrants for the former president of Catalonia Carles Puigdemont and his political allies. The self-exiled leaders were wanted on charges of rebellion for declaring Catalonia's independence last year.
Puigdemont was wanted on the charge of embezzlement for the alleged misuse of public funds for a referendum on secession. If the six politicians living in exile were to return to Spain voluntarily, they would still face rebellion and sedition charges. While Puigdemont's former vice-president, Oriol Junqueras and several others, remain in pre-trial detention in Spain.
Like this story? Share it with a friend!