'We must act as allies': Trump's trade offensive against EU lambasted at G20 summit
Published time: 23 Jul, 2018 01:05
Edited time: 23 Jul, 2018 09:04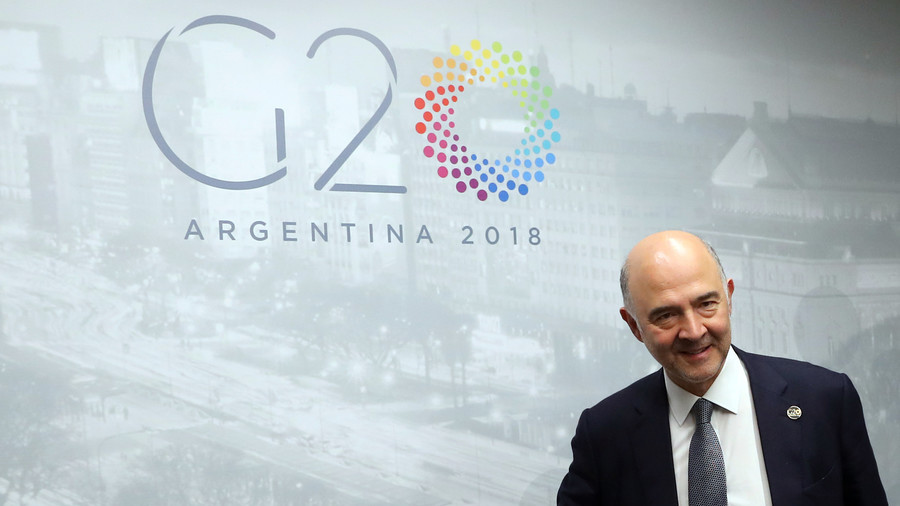 The US president's branding of European allies as "foes" while slapping them with tariffs is "inappropriate," EU finance chief said at the G20 summit, which saw European countries upping their criticism of Trump's trade onslaught.
European Commissioner for Economic and Financial Affairs Pierre Moscovici argued that the EU has done nothing to become the target of constant attacks, both economic and verbal, by US President Donald Trump.
"What I stressed several times in my meetings here is that the EU is certainly not the author of major trade imbalances," the EU financial chief told reporters on Sunday on the sidelines of the G20 summit taking place in Buenos Aires, Argentina.
Calling on Trump to reconsider his ham-fisted trade policy towards the 28-member bloc, Moscovici argued that "targeting us [with sanctions] is certainly inappropriate… and that we must act with the US as allies – not foes but allies."
The EU official, who is a former French minister of economy, was referring to the recent remark by Trump that he made during a CBS interview, which caused a massive backlash among European allies. Listing America's adversaries, Trump first named the EU, noting that it was a "foe" because of "what they do to us in trade."
"Now you wouldn't think of the European Union but they're a foe," he doubled down, prompting the dumbfounded interviewer to ask why his first choice was Europe, rather than the usual suspects China or Russia.
Trump's criticism of the European trade policy has also been denounced by Germany's Minister of Finance Olaf Scholz, who argued that the EU policy "is very rational" and it does not seek "to achieve economic benefits through exchange rate parities."
On a more conciliatory note, Scholz urged the US to pull back from the verge of a trade war. "The prosperity gains are greater for all if we cooperate," he said.
In a rare departure from strong-worded rhetoric towards the EU, the Trump administration's delegate to the summit, US Treasury Secretary Steve Mnuchin, seemingly extended an olive branch to Washington's allies, proposing a free trade deal, albeit on Washington's conditions.
"If Europe believes in free trade, we are ready to sign a trade agreement with no tariffs, no tariff barriers and no subsidies, "Mnuchin said at the summit, noting that "all three conditions would have to be fulfilled."
However, the US proposal, hailed by Canadian Finance Minister Bill Morneau as a "great idea," does not sit well with French Finance Minister Bruno Le Maire, who said France is not prone to negotiating "with a gun to our head."
The US has imposed a 25 percent tariff on steel and a 10 percent tariff on aluminum imports from Canada, Mexico and the EU; a move that has strained relations between Washington and its traditional allies, which responded with tit-for-tat measures in June. US goods that have been impacted include bourbon whiskey, orange juice and motorcycles.
Ratcheting up tensions further, Trump threatened to impose a 20 percent tariff on all EU cars, despite reported opposition from his own trade advisers.
The US has been waging its most expansive trade war with China. The US has already enacted tariffs against $34 billion in Chinese goods, with Trump saying Friday he "is ready" to impose taxes on all $505 billion worth of Chinese goods imported by the US in 2017.
Meanwhile, International Monetary Fund chief Christine Lagarde has cautioned that tariff races will hinder global economic growth, warning that "in the worst case scenario" the impact will be "in the range of 0.5 percent of GDP on a global basis."