Viral drone VIDEO slammed over dangerously close flyby to superjumbo jet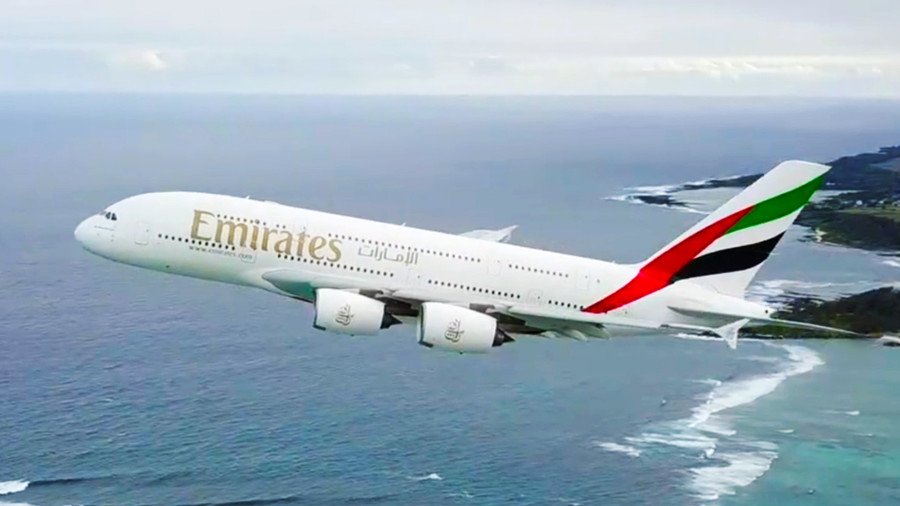 The drone community has condemned an operator for reckless flying after footage released this week showed a drone coming dangerously close to the world's largest commercial passenger jet, the Airbus A380.
Filmed at Plaine Magnien Airport on the tropical island of Mauritius, the video shows the take-off of an Emirates A380. As the jet starts to ascend, it becomes apparent that the drone is hovering dangerously close to the aircraft's flight path, hovering less than 100 meters from the tip of its left wing.
Capable of carrying more than 500 passengers in a typical three-class configuration and 850 passengers in a densified all-economy cabin version, the aircraft was identified as Dubai-based carrier Emirates' flight EK702 to Dubai, according to photography and video site, FStoppers.
The dramatic clip originally surfaced online after being posted to Facebook by Frenchman Thierry Paris, who describes himself as an A380 captain for Air France. While he has since taken the footage down, a repost of the video by AnthonyVlog has garnered more than 65,000 views since Tuesday.
READ MORE: 'Reckless' drone flies dangerously close to landing plane in Vegas (VIDEO)
There was speculation that the video was fake and the footage even became subject of a detailed analysis by the portal Droning On, which came to the conclusion that it was real.
Meanwhile, the pilot's antics have been slated by fellow drone enthusiasts online. FStoppers writer Oliver Kmia warned that the incident will "surely fuel the fire of the anti-drone crowd."
"However, adding new regulations and restrictions won't stop stupid people from doing this kind of thing," Kmia added.
Like this story? Share it with a friend!
You can share this story on social media: