'Reckless' drone flies dangerously close to landing plane in Vegas (VIDEO)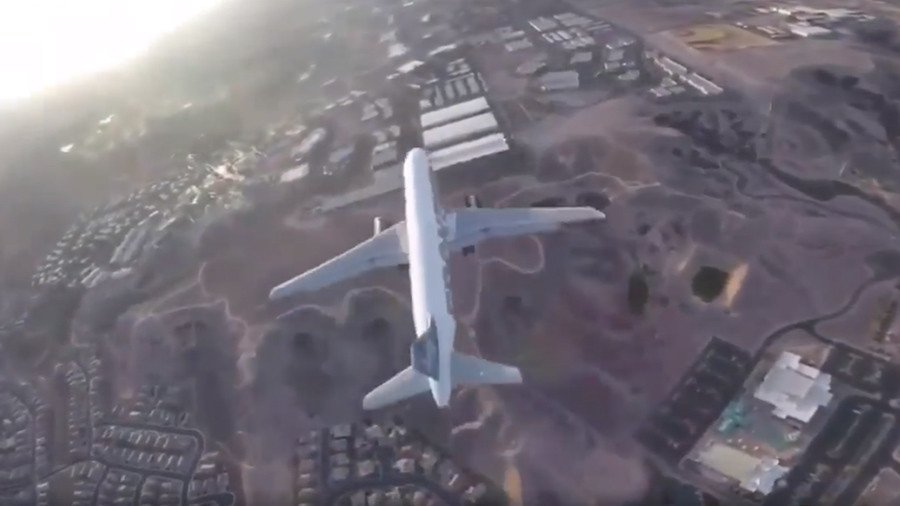 A video captured by a drone shows it buzzing dangerously close to a passenger plane landing at McCarran Airport in Las Vegas violating all safety regulations. Its "reckless" pilot has been condemned by drone enthusiasts.
Footage of the close call, which has since gone viral, provides a stunning view of the plane gliding mere feet below the drone-mounted camera. It starts with the drone taking off from Whitney Park and then shooting up into the skies. Sighting a passenger plane, it moves towards the airplane, then dips down to hover for several seconds just above the aircraft.
It's unclear when the incident happened, though. The Federal Aviation Administration (FAA) said it only became aware of the stunt after footage appeared online. It launched an investigation Friday.
The unknown owner of the drone, meanwhile, has come under fire for endangering the lives of the passengers with his brazen exploit. Drone operator school Drone U, which shared the video of the incident, said the episode "has the potential to discredit an entire SUAS [Small Unmanned Aircraft System] industry" and called for "swift and just punishment for this example of irresponsible and reckless flight."
FAA regulations recommend hefty penalties for those who fly drones irresponsibly. A person may face up to three years in prison or a fine of up to $250,000 if the regulator pursues federal criminal charges. A fine of up to $1,437 is set for every count in violation of the guidelines.
FAA rules state that a drone should not be flown higher than 400 feet (122 meters) above the surface so as not to collide with commercial or private aircraft. The drone in the video at McCarran Airport soars much higher than that stipulation.
A breach of this limit recently led to a drone actually hitting a Canadian passenger plane that was descending on Quebec City's Jean Lesage International Airport in January. The drone was flying at an attitude of some 450 meters (1480 feet) when the collision occurred. Fortunately, the plane only sustained minor damage and landed safely. Canadian law for private drone operation sets the ceiling at 90 meters (295 feet).
You can share this story on social media: