'People voted': Italian interior minister confronts journalist who called Crimea referendum 'fake'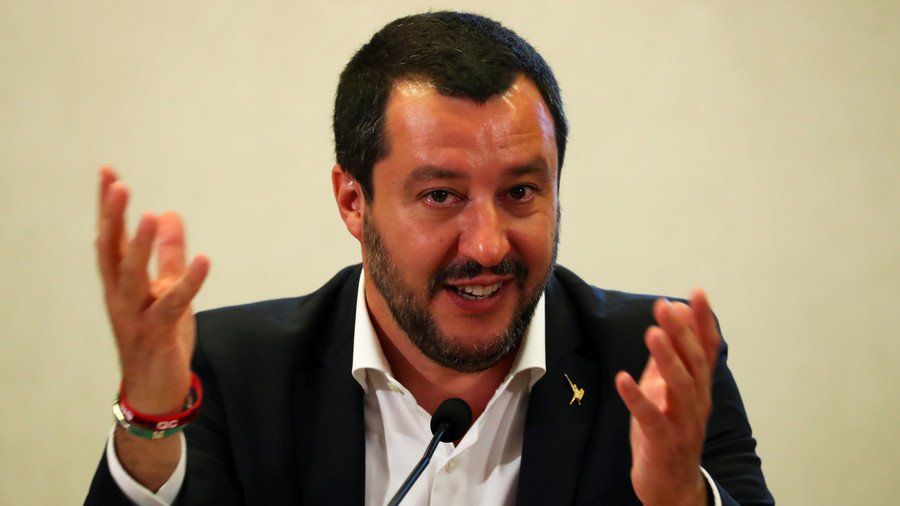 Italian Interior Minister and Deputy Prime Minister Matteo Salvini said that Crimea "legitimately" belongs to Russia as he argued with a US journalist who called the 2014 referendum held on the peninsula "fake."
When Washington Post journalist Lally Weymouth confronted Salvini with the apparently provocative question of whether or not he supports Russia's "annexation" of Crimea, Salvini pointed out that there was actually a referendum, prompting her to claim it was "fake."
In response, Salvini noted that it was just the journalist's subjective "point of view." "There was a referendum, and 90 percent of the people voted for the return of Crimea to the Russian Federation," the Italian interior minister said.
Weymouth then implied that the referendum was illegitimate due to the presence of some Russian forces on the peninsula at that time. Salvini replied that what was indeed illegitimate was the change of power in Kiev at that time, which he called a "pseudo-revolution funded by foreign powers," just like the unrest in the Middle East, known as the Arab Spring revolutions.
"There are some historically Russian zones with Russian culture and traditions which legitimately belong to the Russian Federation," Salvini then said, apparently referring to Crimea. His words immediately provoked an angry reaction in Kiev. The Ukrainian Foreign Ministry even summoned the Italian ambassador to voice its protest following Salvini's comments.
"We condemn the position of the Italian politician as one that is not based on real fact and contradicts … the principles and norms of the international law," the Ukrainian ministry said in its statement, adding that it "expects" Italy to once again condemn what it called the Russian "aggression."
The Italian minister, meanwhile, once again said he would like to lift anti-Russian sanctions imposed by the EU back in 2014, following Crimea's reunification with Russia and the outbreak of crisis in Ukraine. The sanctions "didn't prove to be useful, and according to the data, they hurt Italian exports," Salvini told Weymouth.
He also praised the meeting between Russian President Vladimir Putin and his US counterpart, Donald Trump in Helsinki, calling it "a very positive sign." "A rapprochement between the US and Russia is good news for Italy and for Europe."
Salvini visited Moscow earlier this week, where he met with Russian Interior Minister Vladimir Kolokoltsev to discuss cyber security, the fight against terrorism, and drug trafficking, among other issues. During his visit to Russia, Salvini also said that Rome might address the issue of sanctions by the end of the year.
His statement comes at a time when the EU announced that sanctions against Russia would remain in place until January 2019. In 2014, the US and EU imposed sanctions after accusing Russia of supporting a military uprising in eastern Ukraine. Moscow denied the accusation and responded with counter-sanctions, banning imports of certain agricultural products, raw materials, and foodstuffs from countries that target Russia with sanctions. The restrictive measures have been extended by both sides on multiple occasions.
You can share this story on social media: