We are not a 'yes sir' govt – Italy's Di Maio as he defies NATO over Russia sanctions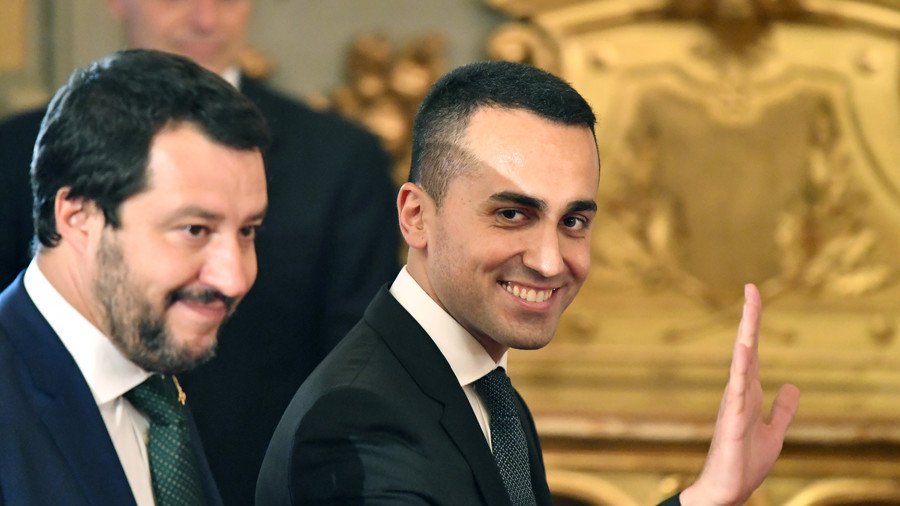 In response to NATO's warning that Rome better leave sanctions on Russia as they are, Italian Deputy Prime Minister Luigi Di Maio said the new government will not take orders from others and will keep moving closer to Russia.
Di Maio, who is the new Minister of Economic Development and joint Deputy PM - a post shared with Matteo Salvini - in the country's new Euroskeptic government, said on Thursday that his administration "will not be spineless and yielding to the will of other states" and had no intention to conduct the "yes sir" diplomacy.
The new coalition government has been showing resistance to other Western countries' attitudes towards Moscow. On Wednesday it came under NATO's fire following Conte's speech where he addressed the aching need to move closer to Russia and lift sanctions which are damaging the Italian economy.
While Conte's Tuesday speech was heartily applauded in parliament, it raised some eyebrows at NATO, which made sure to voice its disapproval at Italy's desire for change.
"We must maintain political dialogue with Russia," the NATO Secretary General, Jens Stoltenberg, said, "but the economic sanctions are important". US Ambassador to NATO Kay Bailey Hutchinson warned Italy that, as a member of the alliance, it would better put its overtures to Russia to rest "until Moscow changes its behaviour", otherwise "it would be a very bad signal to send to Moscow".
NATO's warnings didn't seem to alter the line that the new government has taken on foreign affairs.
"We will be open to have dialogue with Russia, the way it has always been," Di Maio said during Thursday's visit to Italy's largest defense and aerospace company, Leonardo, in his hometown near Naples.
Asked whether NATO's rhetoric worried him, Di Maio, insisted that, although Italy would remain a NATO member, it had no intention to break ties with Russia. So, "as far as international relations go," Di Maio said, he was "not worried".
The Deputy PM highlighted that Italy has "historically" been the NATO member to promote talks with Moscow. Besides NATO, billionaire George Soros also voiced his disapproval of Rome's pro-Russian ambitions, hinting that Salvini, the leader of the second coalition party the League, may be receiving money from Russia.
While being one of the founding members of the EU and calling Europe its home, from now on Italy will look after its own interests, which is going to be the core principle of any future negotiations and collaboration with Brussels, Di Maio assured. He added that the country was "already witnessing some results", since the coalition has taken this line.
In order to prove his point, he evoked latest disputes over Italy's push for a revision of the so-called Dublin rule, which requires migrants to ask for asylum in the country of entry to the EU. This along with what Prime Minister Giuseppe Conte earlier called "egotistical closures" of the boundaries to some European states, which forced Italy to receive over 700,00 refugees since 2013.
"It sufficed to voice our position on illegal migration, to have [them] slow down on [the revision of] the Dublin rule, because that accord dumped the problem on Italy", Di Maio said, adding that despite growing accusations of alleged antagonism to migrants, the new government will be more attuned to the needs of its citizens.
Italy's new government, formed by the Salvini-Di Maio coalition, has made it clear it was moving away from powerlessness whether it came to the migration system or its relationship with Russia and the EU. The coalition has repeatedly emphasised the need to improve Moscow-Rome relationships and lift sanctions, which was earlier stipulated in their accord and brought up by the new Premier before a confidence vote
Think your friends would be interested? Share this story!
You can share this story on social media: