Robbery on the go: Moving bus looted during World Cup celebrations in Grenoble (VIDEO)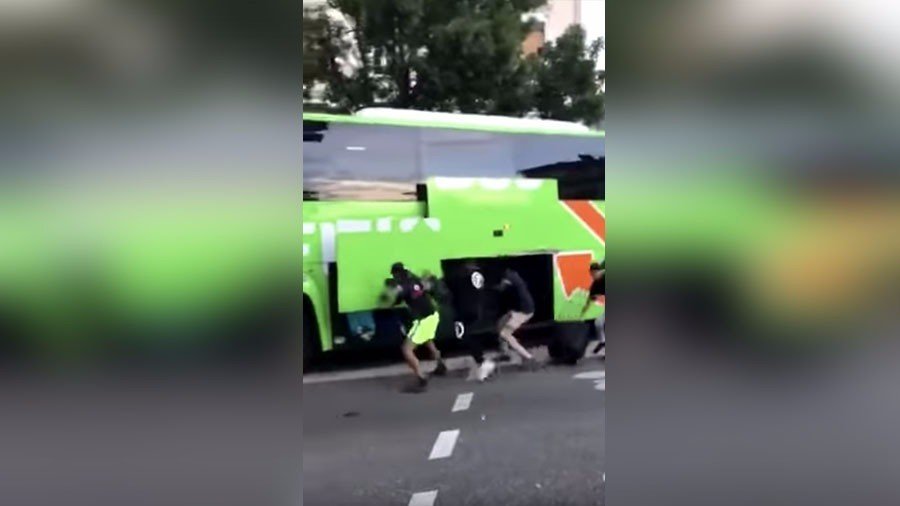 Some people took advantage of the French national team's victory at the World Cup – a group of young men were filmed robbing a bus as it was driven through Grenoble during the celebrations.
Men chasing a bus and emptying its luggage compartment in broad daylight were caught on film. The video was widely shared on Wednesday. The vehicle is seen still moving, but that did not stop the looters.
Some tagged the bus company, FlixBus, in their tweets, demanding it respond. FlixBus said the robbers used the World Cup celebrations to commit the crime and their driver did everything he could to get away.
"During the World Cup celebrations in Grenoble, some people used the opportunity for riots and vandalism," the company said. "When approaching the stop, the bus driver recognized the danger of the situation and wanted to get his passengers back to safety as quickly as possible."
Some people rushed to accuse the company of not properly protecting their customers' belongings, asking why the compartments were unlocked. FlixBus said in response that the driver did not have time to lock up the luggage.
The company has faced similar incidents in Belgium. Its drivers have recently complained about a lack of security due to robbers and gangs at bus stations, particularly in Brussels, and have demanded the authorities take action. FlixBus even considered finding a new stop for international buses in Brussels, according to local media.
Like this story? Share it with a friend!
You can share this story on social media: