Indian Muslim cleric arrested after on-air scuffle with female activist over Islamic divorce (VIDEO)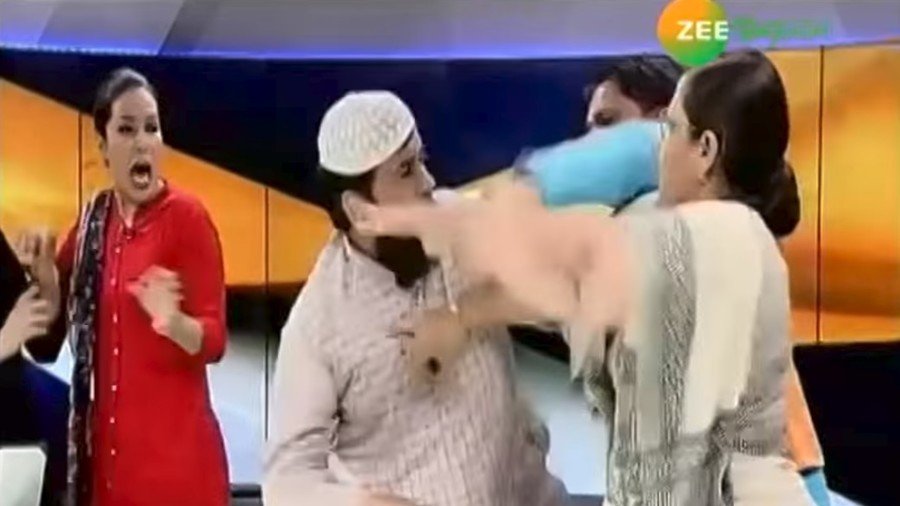 Indian authorities have arrested a Muslim cleric who came to blows with a local rights activist amid a heated televised debate over how Sharia law governs divorce and women's rights.
An Indian Muslim cleric, identified as Mufti Ejaz Arshad Qasmi, has been put under arrest following a complaint by broadcaster Zee Hindustan. Earlier this week, the cleric was filmed slapping Farah Faiz, a women's rights advocate, during a live show aired by the TV channel.
Things went out of control when the two clashed over the talaq – a buzzword which makes an Islamic marriage null and void if pronounced three times by a man. Faiz, who campaigns against the triple talaq, said this is not the form of divorce that exists in the Quran, triggering a violent reaction from the Mufti.
READ MORE: Muslim man assaulted in northern India for 'being friends' with Hindu woman
"The practice of talaq-e-bidat without proper conciliation violates the basic right of every Muslim woman to live with dignity," the advocate said, adding that Muslim women have become "victims of gender discrimination in the absence of proper codified rules governing marriage, divorce and maintenance," according to DNA outlet.
In the footage released by Zee Hindustan, Faiz is seen slapping the cleric, who fights back, aggressively attacking the woman. The show's host tried to intervene and stop Qasmi, but to no result.
Zee Hindustan later took to Twitter to condemn the scuffle and the cleric's conduct. It also accused Qasmi of verbally abusing writer and activist Amber Zaidi, who is seen bursting into tears in a separate video.
Following the incident, there have been some voices demanding that a ban on Islam-related TV debates be put in place. Khalid Rasheed Firangi Mahali, an imam in the northern city of Lucknow, appealed to the government saying such debates are hurting Muslims' religious feelings.
The story comes on the heels of another scandal involving opponents of talaq. Recently, an Indian imam issued a fatwa condemning and boycotting Nida Khan, an NGO activist who campaigns against the practice.
India's Prime Minister Narendra Modi has repeatedly spoken out against "triple talaq." Last year, the Supreme Court delivered a milestone verdict proclaiming the practice of divorce through the talaq among Muslims as "void", "illegal" and "unconstitutional".
Like this story? Share it with a friend!
You can share this story on social media: