Putin laughs at suggestion that Russia collected dirt on Trump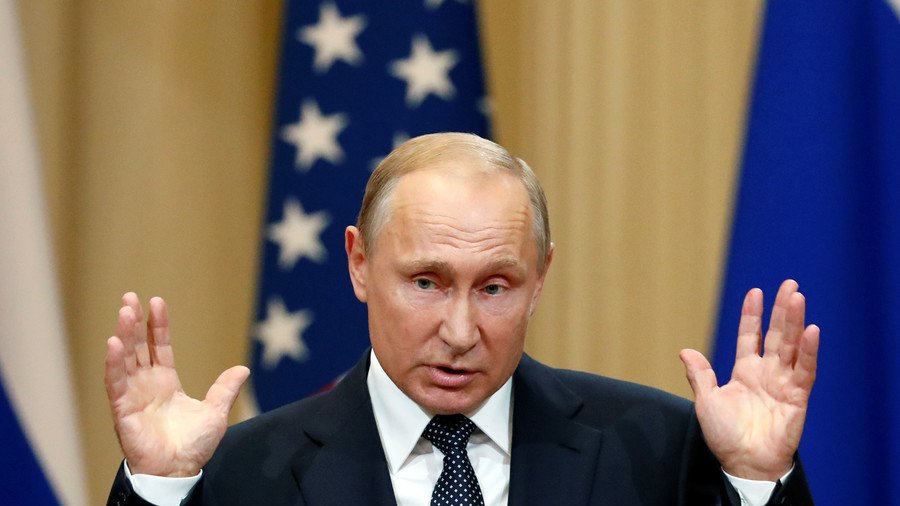 Vladimir Putin laughed after being asked if Russia had compromising information about Donald Trump or his family, replying that it's absurd to suggest that Moscow collects dirt on every American businessman who visits the country.
Jonathan Lemire, a White House reporter for the Associated Press, asked Putin during the post-summit press conference whether Russia had any "compromising material on president Trump or his family."
Laughing once the question was fully translated, Putin responded: "When Trump came over to Moscow, I was not aware of it. When he came over as a businessman, I was not even aware that he was in Moscow. Take the St. Petersburg Economic Forum. More than 500 senior executives from the US came over to Russia. Do you think that we are compiling compromising material on all of them? Well, definitely it's absurd. I cannot really imagine anything more absurd than this. So please, throw out this nonsense."
Trump added that if there was compromising information about him, it would have been published long ago.
While the Russian leader's answer was hardly ambiguous, journalists flocked to Twitter to claim that Putin had not denied that Moscow had dirt on Trump.
FWIW, Putin never actually said "no" he didn't have compromising information on Trump. He just said he didn't personally know Trump was in Moscow and it's "difficult to imagine an utter nonsense of a bigger scale" than collecting info on everyone at that conference.

— Ryan Struyk (@ryanstruyk) July 16, 2018
Putin giggled when asked if Russia has compromising information on Trump, then DID NOT deny it.He deflected, saying he personally didn't know Trump was in Moscow on business back then, and it would be hard for Russia to collect dirt of every businessman. pic.twitter.com/8FVaW2vvFQ

— Jennifer Jacobs (@JenniferJJacobs) July 16, 2018
The theory that Moscow has dirt on the US president stemmed from the so-called 'Steele Dossier,' which – among other sensational but ultimately unproven allegations – claims that Trump paid prostitutes to urinate on a bed in which Barack Obama once slept. The dossier, written by retired UK intelligence officer Christopher Steele and allegedly compiled using sources from "inside the Kremlin," has been repeatedly cited by Russiagate enthusiasts who claim that Donald Trump is a Kremlin puppet.
Like this story? Share it with a friend!
You can share this story on social media: