Putin's new Aurus limo makes foreign debut in Finland (VIDEO)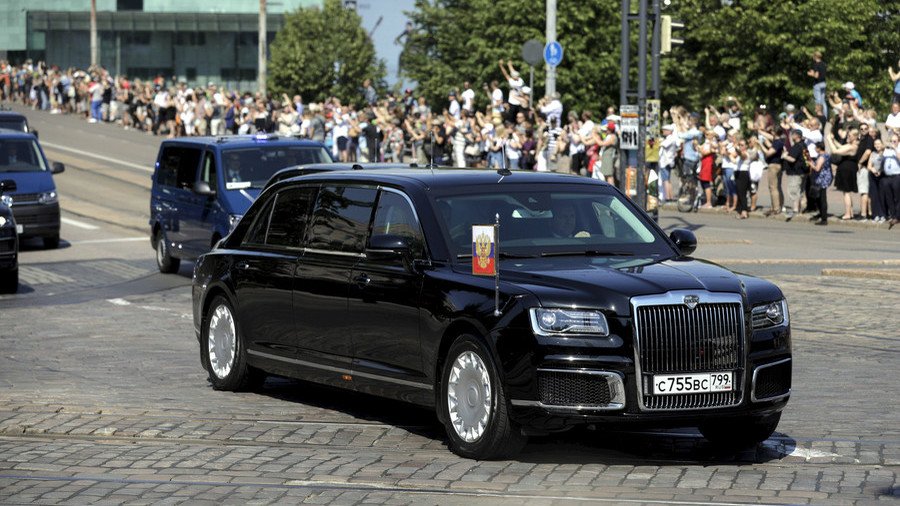 Russian President Vladimir Putin, who is in Helsinki to meet with US counterpart Donald Trump, is using the occasion to showcase Russia's new Aurus limo, the state car designed as part of a new luxury brand.
Putin arrived in the Finnish capital on Monday for his first face-to-face with Trump. Amongst the lighter topics of conversation between the two presidents may well be the comparison of their respective state cars: Trump's Cadillac dubbed 'The Beast' and Putin's Aurus Senat limo. A couple of Aurus limousines were waiting for the arrival of the Russian delegation at Helsinki Airport.
The Russian limos were delivered to Finland last week on an Ilyushin Il-76 transport plane, according to local media. It's the first public appearance of the Aurus brand outside Russia.
The debut of the new Russian state car took place in May during Putin's inauguration for his fourth presidential term. He has since advertised the brand to several foreign dignitaries, including Abu Dhabi Crown Prince Mohammed bin Zayed Al Nahyan.
The new car line was developed as part of a project called Kortezh ("motorcade" in Russian). In addition to the limousine, the Aurus line includes a sedan, also called Senat, as well as a minivan named Arsenal, and a 4x4 car called Komendant. The cars are expected to enter the market next year.
If you like this story, share it with a friend!
You can share this story on social media: