'NATO leaders thanked me for bringing them together,' says Trump after contentious talks in Brussels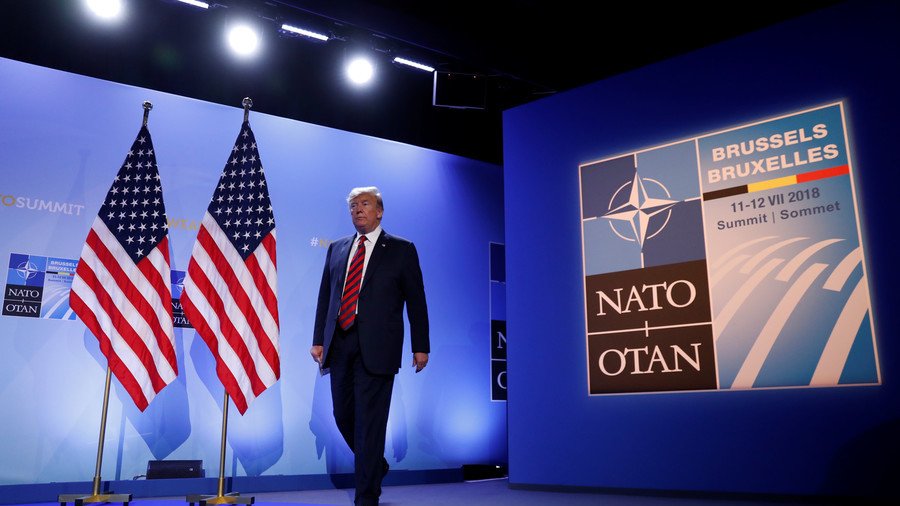 US President Donald Trump claims he got many calls from NATO leaders thanking him for bringing them together during a tense summit in Brussels last week. He also changed his tune towards the bloc, moving from disdain to praise.
"We had a truly great summit that was inaccurately covered by much of the media. NATO is now strong and rich!" Trump tweeted on Monday. The US president also claimed that he had taken "many calls" from NATO leaders thanking him for "helping to bring them together" during the annual meeting in Brussels on July 11-12.
Received many calls from leaders of NATO countries thanking me for helping to bring them together and to get them focused on financial obligations, both present & future. We had a truly great Summit that was inaccurately covered by much of the media. NATO is now strong & rich!

— Donald J. Trump (@realDonaldTrump) July 16, 2018
The allies did their best to display signs of unity last week, but the summit was dominated by clashes between the US and other NATO member states. As expected, President Trump hammered home his longstanding belief that his country is treated unfairly within the alliance, and other nations should do more burden-sharing in terms of defense spending.
The US leader didn't hold back when openly scolding partners for failing to fulfill the pledge to spend at least two percent of the GDP on defense – only four other states have actually hit that target. The majority of NATO nations are expected to reach that target by 2024, but Trump demanded a hike in defense spending to two percent of GDP "immediately," and even called for the bar to be raised to four percent. He also suggested that allies "owe" large sums of money to the US for decades of protecting Europe.
....On top of it all, Germany just started paying Russia, the country they want protection from, Billions of Dollars for their Energy needs coming out of a new pipeline from Russia. Not acceptable! All NATO Nations must meet their 2% commitment, and that must ultimately go to 4%!

— Donald J. Trump (@realDonaldTrump) July 12, 2018
Germany got most of the blame from Trump, as he castigated Berlin for relying on gas supplies from Russia, and, thus, being a "captive" of Moscow. German Chancellor Angela Merkel and other politicians responded with fierce rebuttal of Trump's claims, saying that Germany is independent in terms of policy-making. Germany's foreign minister also came out against Trump's idea of forcing partners to spend more than two percent of GDP on defense, because it will "not make our world any more secure."
READ MORE: Merkel slams Trump's 'Russian captive' comment, defends Berlin's 'independent policies'
The shift in Trump's tone is happening shortly before his meeting with Russia's leader Vladimir Putin, which is scheduled for Monday. A number of politicians and pundits both in Europe and the US have been voicing concerns that the upcoming talks may end with Trump undermining NATO in the process.
Trump's dismay over of the media coverage of his overseas tour is no surprise, as his public spat with the leading mainstream networks continues. Upon leaving Brussels, Trump went to the UK where he denied a CNN reporter an opportunity to ask him a question during the press conference with British Prime Minister Theresa May. The White House later abruptly canceled an interview that Trump's key adviser John Bolton had planned to do on CNN, accusing the channel of "disrespecting" the president.
READ MORE: 'No, you're fake news': Trump snubs CNN, slams NBC during Theresa May presser
While in the UK, Trump also blasted NBC for "dishonest reporting" after its correspondent asked him whether he is giving "an upper hand" to Putin at their upcoming talks. British paper the Sun also took the heat from the president. He labeled it "fake news" for supposedly editing out parts of his interview.
Think your friends would be interested? Share this story!
You can share this story on social media: