Google engineer beaten to death, 3 critical in Indian lynch mob attack fueled by 'kidnapping' rumor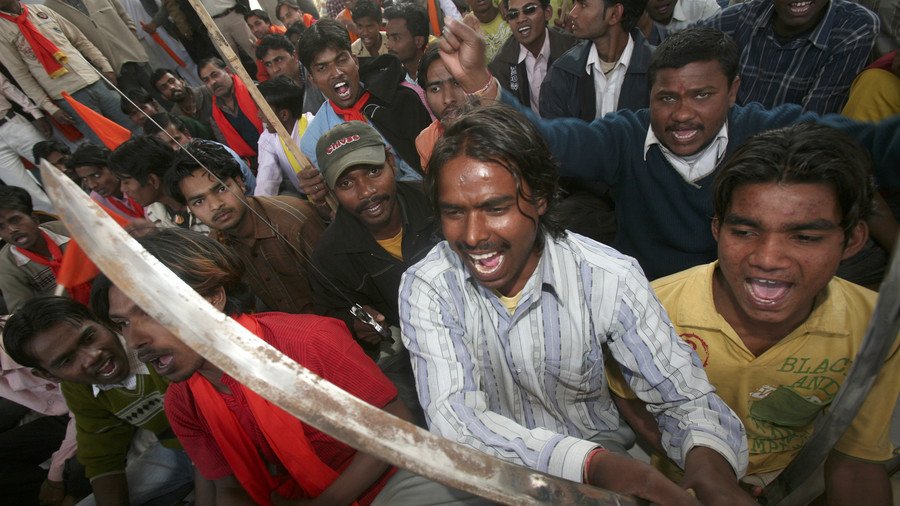 One man has been killed and three are fighting for their lives after an angry mob of 200 ruthlessly beat them, responding to a public call for "help" in which the group of men was misidentified as suspected child kidnappers.
Google software engineer, Mohammad Azam, was beaten to death while three others, including a Qatari national, were severely injured by a massive mob over WhatsApp-inspired rumor which labeled them "child-lifters."
The tragedy unfolded on Friday, when Azam, together with three of his friends, Mohammed Salman, Mohammed Salham-eid-al-Kubaisi and Noor Mohammed, stopped at a shop near Balkut Tanda on their way to Hyderabad. Seeing provincial kids running around, the men apparently offered them chocolates.
However, with ongoing rumors of a child lifting gang operating in the region, the locals assumed that the men were trying to lure the kids. To prevent what they believed was an abduction attempt, the hastily-assembled vigilantes attacked the men.
Though the four managed to escape the initial violence, a WhatsApp message of the attack triggered further massive response. Men from surrounding villages instantly went in pursuit of the four men's car on motorcycles. During the chase, the car went off the road and fell into a culvert outside of Murki village.
The mob surrounded the vehicle, dragging the four to the ground. They beat them so severely using fists, their legs, stones and sticks, that even police who came to the rescue could not convince the crowd of 200 to step away. At least three law enforcement officers were injured in the clash.
Once the violence finally stopped, Azam succumbed to his injuries while being rushed to a hospital. The others are battling for their lives in a Hyderabad hospital. Police detained at least 32 people in connection with the vigilante action, 28 of whom were arrested, Superintendent of Police D. Devaraja announced. The administrator of a WhatsApp group, who circulated the 'call for help' message, was among those placed in custody. Azam's family is now calling for the guilty to face punishment.
"He was a software engineer working with Google. He looked so sophisticated and polished in his behavior. How can anybody suspect him to be a kidnapper of children? Definitely, it would not have been the reason,"said Azam's brother, Mohammad Akram. "The guilty should be punished so that no other innocent loses his life in this manner."
In recent months India has witnessed a number of 'lynch mob' incidents that were fueled by social media rumors of child-kidnapping cells operating in certain parts of the country. Amid the outbreak of such violence, the government urged social media platforms to clamp down on the spread of such messages.
Think your friends would be interested? Share this story!
You can share this story on social media: