US 6th fleet flagship, Marines flock to Ukraine for massive Sea Breeze war games (PHOTO, VIDEO)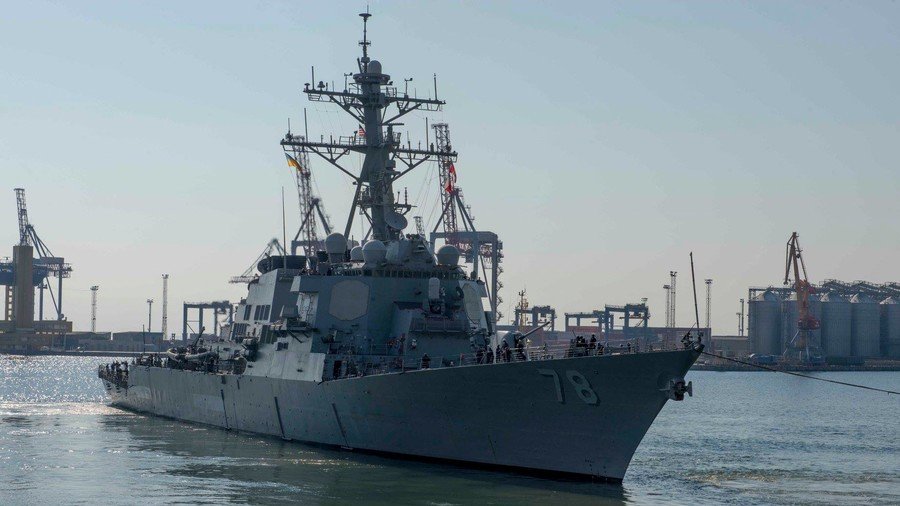 30 vessels, dozens of combat jets and around 3,000 troops from 19 nations have been deployed to Ukrainian waters to take part in massive the US-led Sea Breeze 2018 war games in the Black Sea.
The US Navy, one of the major Sea Breeze contributors, deployed command-and-control vessel USS 'Mount Whitney' – the 6th fleet flagship, the guided missile destroyer USS 'Porter', a P-8A Poseidon patrol aircraft, as well as Marines and frogmen from Navy Underwater Construction Team 1.
"The exercise seeks to build combined capability and capacity to ensure regional security and foster trust among participating nations," the Pentagon maintained in a statement. Announcing the Sea Breeze 2018 exercise, the Ukrainian Ministry of Defense candidly said the war games are "our common response to ideologues, organizers and sponsors of hybrid wars."
Though little is known about the actual Sea Breeze scenario, the DoD release said some of the training areas included maritime interdiction, air defense, antisubmarine warfare, damage control tactics, search and rescue, and amphibious warfare. The drills have took off from the port of Odessa and are to last till July 21.
It will also be the first time multinational staff will be commanding their units from aboard the USS 'Mount Whitney,' a Blue Ridge-class command ship which saw action during the 2001 invasion of Afghanistan. It was also deployed to assist Georgian forces during the 2008 war in South Ossetia.
At some point in the drills, US Marines trained alongside Ukrainian infantrymen just 169km (100 miles) away from the Crimean border, according to the Stars and Stripes. The troops honed their daytime attack and night ambush skills as part of the inland fighting portion.
Following a referendum in Crimea in March 2014, in which the peninsula opted to reunite with mainland Russia, some NATO states began fanning fears that the Black Sea was turning into a "Russian lake."
Since that time, the bloc's warships, including US missile cruisers, have patrolled the Black Sea on a rotational basis, never leaving the area unattended. The increased presence of NATO naval forces near Russian shores has led to countless mid-sea encounters involving American warships and Russian combat aircraft.
READ MORE: Sea Breeze: US sends missile warships, Navy SEALs to massive war games off Ukraine coast
Last year's edition of Sea Breeze also took part off Odessa coast, and involved as many as 31 vessels, 29 aircraft and over 3,000 troops. Russia has repeatedly criticized frequent visits by NATO warships in the Black Sea, insisting it only increases tensions and risks security and stability in the region.
Like this story? Share it with a friend!
You can share this story on social media: