'Almost a Russian lake': Erdogan calls for greater NATO presence in Black Sea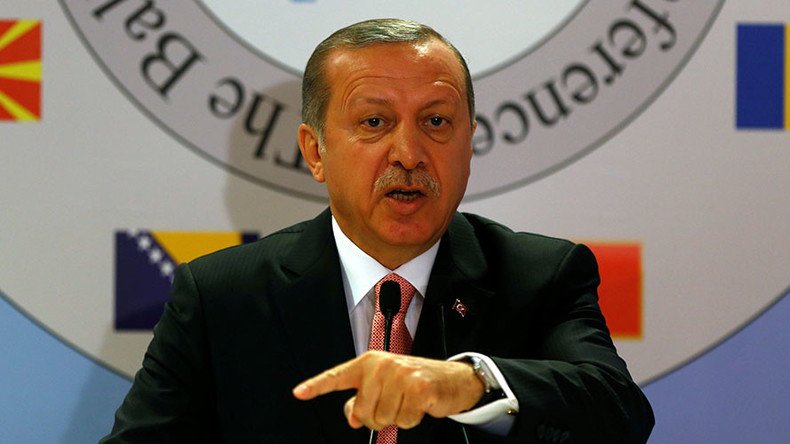 NATO is not deploying enough assets to the Black Sea and cannot counter the Russian military presence there, Turkish President Recep Tayyip Erdogan has argued. He said he would ask the alliance to address the issue during an upcoming summit in Warsaw.
"I told him [NATO Secretary General Jens Stoltenberg]: 'You are absent from the Black Sea. The Black Sea has almost become a Russian lake,'" Erdogan said at a meeting of heads of general staff of Balkan nations in Istanbul on Wednesday. "If we don't take action, history will not forgive us."
He added that Bosnia and Herzegovina and Macedonia should join the alliance soon to make it stronger.
A NATO summit will be held in the Polish capital in July. The meeting is expected to strengthen the alliance's stance on countering what its new top military commander, US General Curtis Scaparrotti, called a resurgent Russia in his inauguration ceremony last week. Moscow sees NATO's military buildup near its border as offensive and threatening.
"We should enhance our coordination and cooperation in the Black Sea. We hope for concrete results from the NATO summit in Warsaw on July 8 and 9… The Black Sea should be turned into the sea of stability," Erdogan said, as quoted by Sputnik.
Military access to the Black Sea is limited for nations not bordering it, as Russia does. The US regularly sends its warships into the Black Sea for rotations.
The tension between Russia and the US over the strategic body of water was highlighted last year when Russian warplanes passed by the USS Ross, an American guided-missile destroyer. The Pentagon accused the Russian military of acting aggressively, while Moscow said the warship was approaching Russian territorial waters, which prompted the response.
Turkey, previously a strong trade partner of Russia, has become a bitter foe after downing a Russian bomber near the Syrian border back in November. The Turkish president said the downing of the plane – which resulted in the death of one of its pilots, who was killed by a Turkey-supported rebel group – was a proper response to a seconds-long violation of Turkish airspace. Moscow denied that such a violation happened and accused Ankara of stabbing Russia in the back.
Turkey's immediate move after the incident was to call an emergency NATO meeting.
You can share this story on social media: