Erdogan accuses EU of harboring terror groups, urges bloc to fix own laws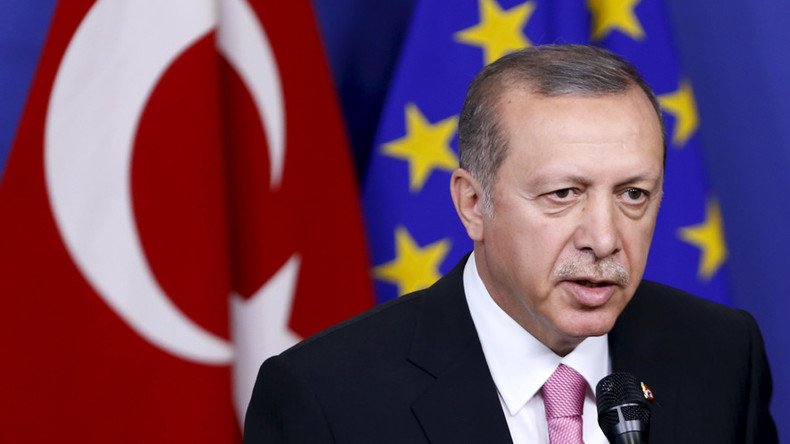 Turkey's president has refused to bring the country's anti-terror laws in line with EU standards, claiming Europe lecturing Ankara is a "black comedy", as it offers safe haven to terrorist groups' political wings and refuses to fix its own flawed laws.
"European countries continue to be safe havens for the political extensions of terrorist groups. When this is the case, it's a piece of black comedy that the EU criticizes our country over the definition of terrorism," Turkish President Recep Tayyip Erdogan said in Ankara on Tuesday.
Turkey continues to hold the EU hostage over the migrant crisis, as the country ultimately aims to join the bloc. Meanwhile, it has been pursuing visa-free travel negotiations. Last week Brussels urged Ankara to amend its terrorism laws in line with EU standards. Erdogan refused.
In his speech Tuesday he reiterated his country's stance, claiming that it is Europe which should be amending its laws.
"First of all, we expect EU countries to fix their own laws that support terrorism," Erdogan said, calling on EU to first answer why it allowed Kurdistan Workers' Party (PKK) activists to set up tents in front of the European Parliament in March.
The present anti-terrorism laws allow Turkey to press terrorism charges against critical journalists and academics. Erdogan stressed that even without visa liberalization, Turkey would take its own path.
"There is no need to make big deal of it," he said, adding that Turkey needs to "stand upright" and not "lie down".
The Turkish president also took his time to remind Europeans that Turkey is vociferously fighting the migrant crisis. According to Erdogan his country has spent way more on refugees than the EU-Turkey deal envisioned, when EU leaders agreed on a €6 billion (US$6.8 billion) aid package to help Turkey care for millions of refugees hosted in the country.
Erdogan said that some 3 million Syrian refugees has cost his country $10 billion, adding that the total costs had surpassed $20 billion, if factoring in contributions from NGOs.
READ MORE: 'You can go your way': Erdogan rejects demands to change anti-terror law for EU visa deal
"What did they say? 'We are going to give you €3 billion annually.' So, did they give any money so far? No!" Erdogan said. "We have established container towns, we have set up tent cities; they are still telling us 'send us projects, we will send you money'."
Earlier this month, EU said that Turkey needs to fulfill five benchmarks, out of an initial 72 points to qualify for visa free travel. The five remaining benchmarks include battling corruption, data protection, cooperation with EU's Europol law enforcement agency, judicial cooperation on criminal matters and revising the legislation on terrorism.
You can share this story on social media: