EU membership Turkey's strategic goal, visa exemption will accelerate that process - Erdogan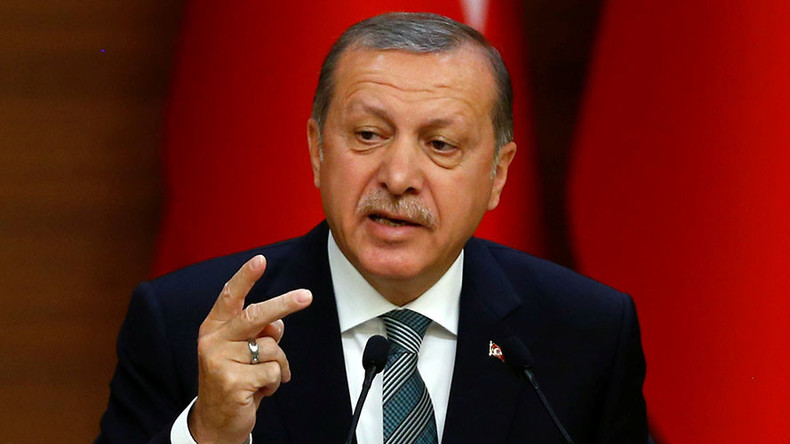 The Turkish president has stressed in a new statement that the EU membership remains key to Turkey and the visa agreement will speed up the process. That comes days after he said Turkey was going its own way.
"EU membership, a strategic goal for Turkey, will be a source of stability and inspiration for the region," country's President Tayyip Erdogan said in the statement, released to coincide with Europe Day and cited by Reuters.
"I hope that the agreed visa exemption [deal] will relieve some of the frustration caused by more than 50 years of waiting at the EU's gates ... and that it accelerates Turkey's accession process," Erdogan said.
His latest comments follow a Friday statement by the Turkish President, in which he slammed the idea of changing the country's counter-terrorism laws to meet EU requirements.
"The EU says: 'You will change the anti-terror law for visas.' Pardon me, but we are going our way and you can go yours," Erdogan stated in a televised speech in Istanbul.
READ MORE: 'You can go your way': Erdogan rejects demands to change anti-terror law for EU visa deal
The Turkish authorities are now set to develop the policies to liberalize EU visas, and conduct them according to the comments voiced by Erdogan, a Turkish Foreign Ministry spokesman has said.
The EU called on member states to allow visa-free travel for the Turkish people in exchange for Turkey preventing refugees from reaching Europe.
However, the bloc has a list of 72 requirements that Ankara needs to meet to get visa-free travel, and altering anti-terror legislation and the protection of personal data are several remaining steps.
So far, Turkey has readmitted 386 migrants, 14 of them Syrians, according to the Turkish Foreign Ministry.
It comes amid the European refugee crisis: only recently, a few of the member states officially banned entry for refugees.
On Monday, Poland said it wouldn't accept any refugees as they "pose a threat to security."
Also, Polish authorities said that the country wouldn't pay €250,000 per refused refugee, and would be against any legislation enforcing that.
A few days earlier, German Chancellor Angela Merkel said that the EU risks "falling into nationalism" if it fails to secure its external borders against a shocking, one-million-per-year, wave of refugees.
Merkel also urged her EU member states counterparts to protect the frontiers "from the Mediterranean to the North Pole.