President's rap: Turkmen strongman & grandson drop some beats (VIDEO)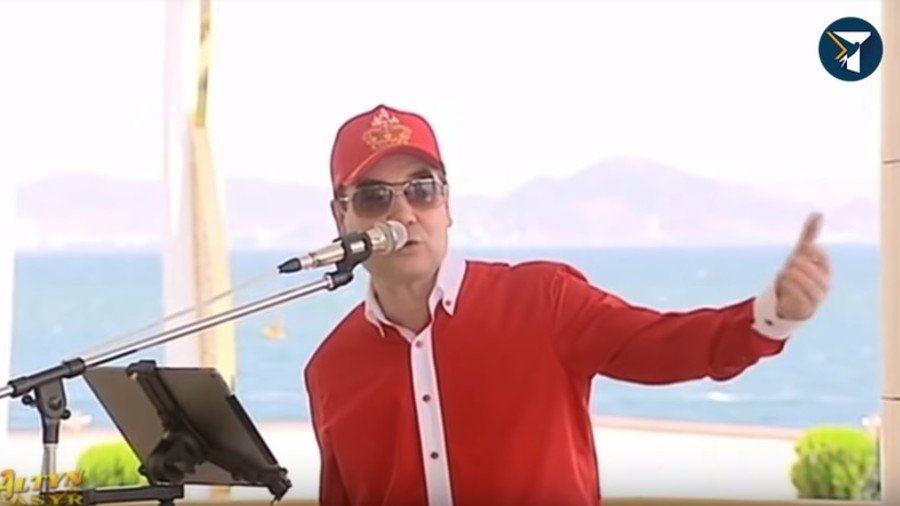 It turns out rapping is another passion of Turkmen President Gurbanguly Berdimuhamedov, who features in an epic music video with his grandson. The leader, who loves the spotlight, has already demonstrated many passions.
Turkmenistan's extravagant president and his grandson appear on a video uploaded to YouTube by an alternative news website, the Chronicles of Turkmenistan.
Berdimuhamedov, wearing a red cap and a red shirt, is seen dropping beats using a synthesizer and a guitar in the song purportedly written by he and his grandson.
"Here's a bowl of flowers and trees, here's a music of mountains and sea, beautiful sights of rivers and sky, all other beauties in Turkmenistan," the president's grandson, Kerimguly, can be heard singing in English.
Berdimuhamedov himself was rapping in Turkmen, raising his hands in unison and repeating the name of his country several times in a row. Whether he reached the levels of Eminem or the like, you need to judge for yourself.
Singing has long been Berdimuhamedov's passion. Previously, he saluted all the women in his country on International Women's Day by performing Soviet song 'Karakum' – named after a large desert spanning landlocked Turkmenistan.
Music production aside, Berdimuhamedov has previously been seen DJing, serenading energy plant workers, and weight training. In 2013, he won a horse race, though the stunning event was marred by an embarrassing tumble for the president – which he allegedly tried to prevent from being leaked.
Last year, undated footage showed Berdimuhamedov driving an SUV through the desert and demonstrating his marksmanship skills in front of military personnel. He was also filmed throwing daggers into the face and chest of the human-shaped targets, with the video suggesting he also commanded a helicopter-led operation in the desert.
READ MORE: Turkmen leader channels inner Arnie for Commando-style troop inspection (VIDEO)
Construction is another passion of Berdimuhamedov, who has ordered hundreds of new gleaming white houses and high-rises to be put up in Ashgabat, the capital of the gas-rich state. The strongman has also decorated one of the capital's central boulevards with a massive golden statue of himself on a racehorse, dressed as a medieval lord.
The 60 year old was re-elected in February 2017, attracting 97 percent of the vote. In 2016, the parliament trimmed the constitution to allow him to serve unlimited terms in office.
If you like this story, share it with a friend!
You can share this story on social media: